Pregnant Celebrity
Photo Gallery
Happy Wednesday Hump Day — also known to us as Celebrity Baby Bump Day! We have rounded up the cutest pregnant celebrities of the week, including Kate Winslet, who debuts her baby bump at the Toronto Film Festival. Pregnant Gwen Stefani shows off a tiny baby bump, while Rachel Zoe revealed her new pregnancy curves at New York Fashion Week. Pregnant Jennifer Love Hewitt and James Van Der Beek's wife, Kimberly, round out our list of cute pregnant celebrities of the week.
(page 4 of 5)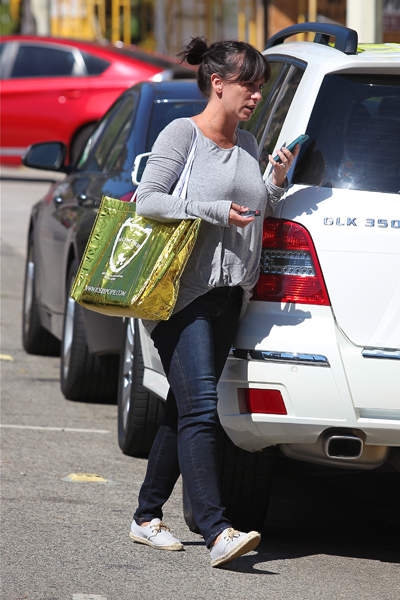 Jennifer Love Hewitt
Pregnant Jennifer Love Hewitt was spotted out shopping for maternity clothes, as she carried a Rosie Pope Maternity shopping bag while chatting on her phone.
The Client List star is expecting her first child in December with her fiancé and co-star, Brian Hallisay. She recently told People that she is waiting until after the baby is born before she gets married.
"I'm not putting that on myself also! We're going to wait," Hewitt said. "I'm going to get down and be cute again and then we'll be ready to go."
In the meantime, she said Hallisay has been taking good care of her throughout her pregnancy.
"I definitely am being super well supported. I definitely get foot rubs and I definitely get looked after in the craving department or if there is anything that I need," she said. "He's doing a great job taking care of me and supporting me."
Next up: Dawson, ahem, James Van Der Beek and his pregnant wife spotted on the red carpet