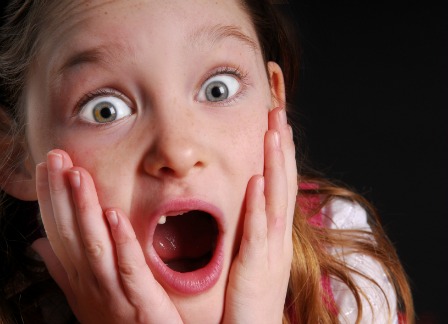 Remember those spooky stories from your childhood? Looking back, they weren't really that scary — but they were a staple around the campfire or on a dark and stormy night. What better time than Halloween to pass on the tradition of the spooky story?
Spooky tales that won't leave them screaming
We found 10 relatively tame stories to share with your little ghouls and boys.
Scary stories are a staple of sleepaway camp, nights by the roaring fire and in the weeks leading up to Halloween. While some scary stories pack a real scary punch — even for older kids — there are plenty of tame spooky stories to share with your little ones.
This spooky story is about an old woman who eats a hairy toe she finds in the woods behind her cottage. But what about the owner of the toe? An excerpt from the book Spooky Maryland by S.E. Schlosser, this tale has enough fantasy to it that it's not terribly scary for the younger ones.
Is your little guy crazy for pirates? This is the tale of Captain Kidd and his band of pirates who bury treasure on the New Jersey shore, then come back to haunt the area. Retold by S.E. Schlosser as part of his Spooky New Jersey book, this tale will remind you of ghost stories from your days gone by.
Who doesn't love a good dog story? Take one loyal dog, an adventurous boy, danger and a ghost and you've got a not-very-scary story for younger kids to enjoy. This is just one story available on the TLC website that your whole family will enjoy.
What about a family who turns the tables on their ghost? In an adaptation of the classic Oscar Wilde story, the tale of The Canterville Ghost shows how a whole family dealt with the ghost in their new home, and how they eventually helped him move on.
James M. Deem is an author of children's books who has collected some of his favorite ghost stories and made them available in his Haunted House online. This story is from his book Ghost Hunters. The pleading ghost in this story isn't very scary, but it is a little boy who died young, so this one might not be suitable for the youngest in the crowd.
This classic song by Charlotte Diamond is a Halloween story told within a song — and if you've ever attended elementary school you probably already know the lyrics. You can watch the video and sing along, or add the song to your collection. Kids love following the story and participating in the lyrics and acting out the story. A winner for the elementary or preschool crowd.
Got tweens who can handle a bit more of a scare? The tale of Shadows in the Mirror has all the elements of a good ghostly mystery for older kids who won't be too easily frightened by the idea of a ghost in their home.
What sounds like a scary tale of snakes is actually a funny story — best delivered in a dramatic manner. This is an old camp favorite of many, and great for any younger kids who may be too scared by some of the other stories.
Haunted is a kid-friendly story about ghosts who love to party! Written by Harris Tobias, kids of all ages will follow this short story with rapt attention, then be surprised by the delightful ending.
Do scarecrows keep evil spirits away, or can they be possessed by them? This first-person story has many elements of a perfect scary story and is great for the elementary school crowd.
More Halloween fun
5 Halloween activities kids and adults will love
Fun Halloween traditions for families
Celebrating Halloween with young kids