Pregnant Celebrity
Photo Gallery
Happy Wednesday Hump Day — also known to us as Celebrity Baby Bump Day! We have rounded up the cutest pregnant celebrities of the week, including Rachel Zoe who has finally confirmed she is indeed pregnant with her second baby. Pregnant Jennifer Love Hewitt looks cute in a white tank (and hints about baby names!) while Simon Cowell was spotted out with his pregnant girlfriend Lauren Silverman. Danielle Jonas and Halle Berry round out our list of cute pregnant celebrities of the week.
(page 5 of 5)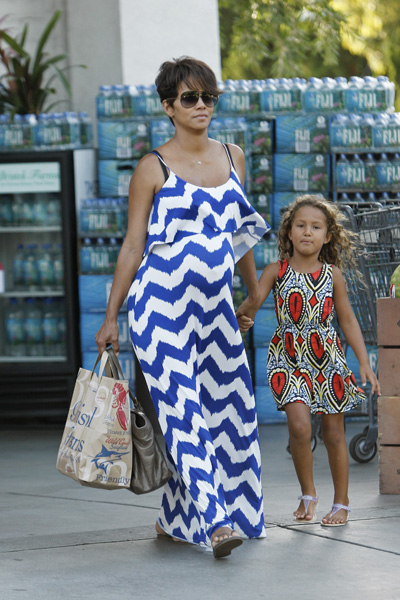 Halle Berry
Halle Berry makes pregnancy look gorgeous! The 47-year-old actress was spotted at Bristol Farms in Beverly Hills with her 5-year-old daughter Nahla on August 29.
Berry and her husband, Olivier Martinez, are expecting their first child (a boy) together.
The actress reprised her role as Storm in the movie X-Men: Days of Future Past, however admitted that her pregnancy was a challenge!
"My ever-growing belly was posing a constant challenge!" she told Total Film magazine. "What I could do was getting more limited, so the role I play is so different from what it could have been, due to my surprise pregnancy."
She also hinted what was the secret to her ageless body. "There's no secret, I've just lived a healthy lifestyle," she told the magazine. "I only work out like three times a week, 30 minutes a pop. That and good clean living. As I'm getting older it's just paying off."
Berry also said that she has learned to keep her stress at a minimum. "As I've grown older I've really learned, out of necessity, the importance of leaving work at work. Bringing home half of the things that I get asked to do in the film world is really detrimental to my private life — especially now that I have children," she said. "I have to come home and I have to be Mom, and I have to be the same person I was when I left."
Photos: WENN unless noted otherwise