Pregnant Celebrity
Photo Gallery
Happy Wednesday Hump Day — also known to us as Celebrity Baby Bump Day! We have rounded up the cutest pregnant celebrities of the week, including Rachel Zoe who has finally confirmed she is indeed pregnant with her second baby. Pregnant Jennifer Love Hewitt looks cute in a white tank (and hints about baby names!) while Simon Cowell was spotted out with his pregnant girlfriend Lauren Silverman. Danielle Jonas and Halle Berry round out our list of cute pregnant celebrities of the week.
(page 2 of 5)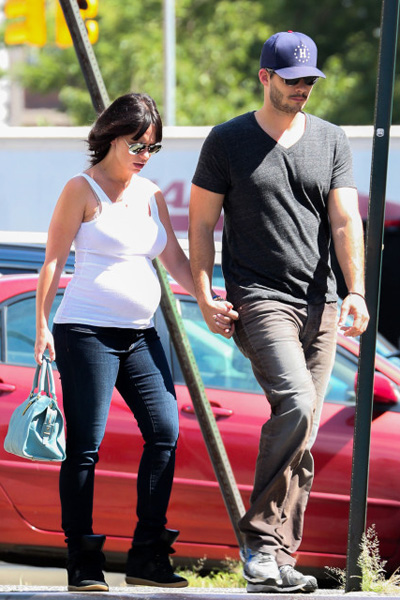 Jennifer Love Hewitt
Lovely baby bumps! Due in December, pregnant Jennifer Love Hewitt showed off her pregnancy curves in a white tank top paired with skinny maternity jeans and sneakers as she was spotted in New York City with her fiancé, Brian Hallisay.
The Client List star told reporters recently at a Pampers event that she is taking a relaxed attitude to preparing for motherhood.
"I think most people, when they're getting ready to be a mom, they go, 'Oh my gosh, I have to have all of the answers right now," she said. "But every kid is different, every parent is different and every child and parent relationship is different, so you just sort of have to wait until you're in it and do the best that you can to try and be Zen in the middle of it all."
She said she doesn't know the sex of the baby, but they have already started thinking about baby names. "They're not traditional, but they're not crazy," she told Us Weekly. "They're sort of middle ground."
Next up: Kevin and Danielle Jonas reveal the sex of their baby!