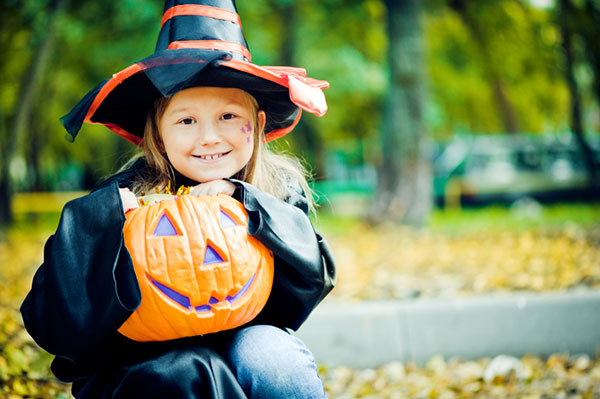 We've got a
map for that
Halloween is about laughter, costumes, neighborhood fun and loads of treats. To ensure that your child's Halloween is everything it's meant to be, map out a neighborhood route that's safe and simple to navigate.
Determine your course
Sure, some people say it's reasonable to head out on Halloween night and walk whichever way the wind blows. Those people are wrong. It's important to give at least a little thought to where the kids will wander around the neighborhood so you can maximize their fun and your peace of mind. Ask yourself the following questions to help determine your course:
Where are the hills in your neighborhood? Do your best to avoid them so little costumed feet won't ache by the end of the night.
Where are the well-lit and wide sidewalks in the neighborhood? Try to navigate along these thoroughfares. Daytime streets can grow treacherous at night without adequate lighting and a wide shoulder.
Are any neighborhood sidewalks in disrepair? Avoid them at night, because they can pose a tripping hazard when lighting is poor.
How far do you want to walk? You'll want to make sure that you have an idea of where you and the kids will turn around to come home, so they aren't hating life by the time they slog back home. Moreover, if you've predetermined how far you'll go and prepared the kids with that information, it will be easier to enforce going home.
Enjoy the company of neighbors
Once you have a general idea for your course, talk with a few neighborhood moms to determine where and how the kids can meet up. Costumed children can start the night together, or they can join forces along the way. Trick or treating with the neighbors has two benefits: 1) it's more fun to go with a group, and 2) there is safety in numbers.
Keep it interesting across age groups
Unless you're comfortable with allowing your older children to go trick or treating later in the evening without a chaperone, you'll need to give some thought to appeasing all your kids along the route. Consider the following options for infusing fun for younger and older children alike:
Does your neighborhood have a trunk or treat event? Try to incorporate the event into your route so your littlest kids can get a lot of good loot in one spot.
Are there any haunted houses in the neighborhood? Your older kids can navigate the haunted house while younger kids stay outside.
Is there a Halloween party in the neighborhood? You can drop teenage children off at the party and circle back to pick them up once your younger children have collected all their neighborhood goodies.
Maintain safety
Above all else, it's important to maintain your kids' safety on Halloween night. If you feel good about your Halloween route in terms of practicality and fun, make sure you and your kids review the following Halloween safety tips from the Centers for Disease Control:
Always have your children walk in groups or with a trusted adult.
Affix reflective tape to your kids' costumes so drivers can easily see them along the street.
Examine all candy and treats for small parts and tampering prior to allowing kids to eat. Don't allow children to eat homemade treats.
Carry a flashlight.
Use your street smarts — cross at crosswalks, look both ways, and stay off the street when possible.
Only enter homes with a trusted adult, and avoid homes that are not lit.
Wear flame-resistant costumes and avoid walking near candles.
More from Parenting
Adorable fall photos of kids playing in leaves
How to track your kids whereabouts
Geography crafts for kids