Pregnant Celebrity
Photo Gallery
Happy Wednesday Hump Day — also known to us as Celebrity Baby Bump Day! We have rounded up the cutest pregnant celebrities of the week including Megan Fox, who was spotted with her son Noah. Pregnant Jennifer Love Hewitt was spotted in a bump-hugging black dress, while Danielle Jonas showed off her sporty maternity style. Devious Maids star Dania Ramirez, who is expecting twins, looked cute in a bikini while pregnant Fergie rounds out our list of cute expecting celebrities of the week.
(page 5 of 5)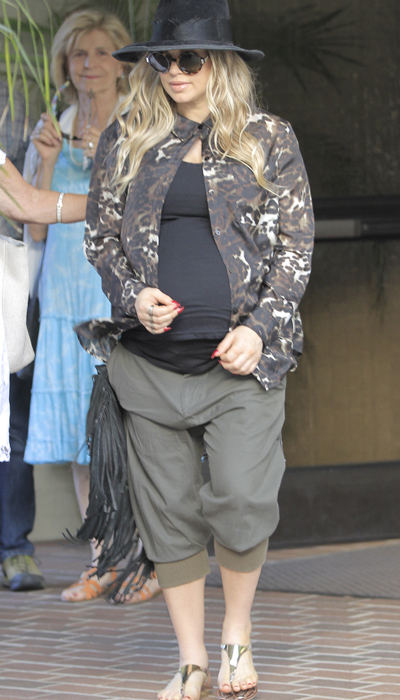 Fergie
Fergie showed off her edgy maternity style as she paired a bump-hugging tank with parachute style pants as she left church.
The Black Eyed Peas singer and her husband, Josh Duhamel, are due in September with their baby boy.
"We do have a bag ready," Duhamel told reporters at his Scenic Route premiere.
"We have enough [diapers] to last us probably the first week. It fills up the whole closet. Apparently they poop a lot," he joked.
Fergie has had three baby showers to celebrate the birth of their child, so it sounds like they are probably all stocked up on baby essentials — but what about the baby name?
"I grew up in North Dakota so we were going to name him North," Duhamel joked, "But Kim and Kanye got there first!"
Photos WENN unless noted otherwise