Pregnant Celebrity
Photo Gallery
Happy Wednesday Hump Day — also known to us as Celebrity Baby Bump Day! We have rounded up the cutest pregnant celebrities of the week including Megan Fox, who was spotted with her son Noah. Pregnant Jennifer Love Hewitt was spotted in a bump-hugging black dress, while Danielle Jonas showed off her sporty maternity style. Devious Maids star Dania Ramirez, who is expecting twins, looked cute in a bikini while pregnant Fergie rounds out our list of cute expecting celebrities of the week.
(page 4 of 5)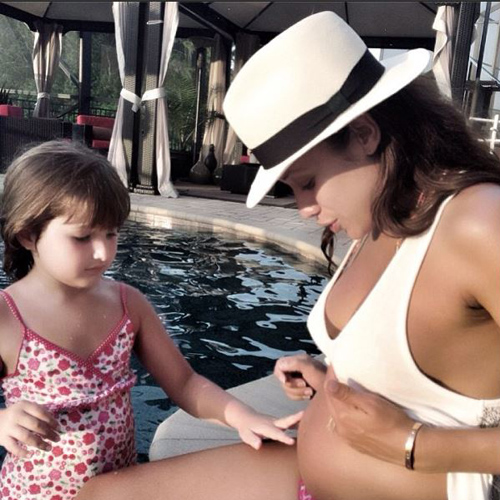 Dania Ramirez
Devious Maids star Dania Ramirez shared this sweet photo of a friend's daughter touching her baby bump with the caption, "Baby Whisperers."
Ramirez and her husband John are expecting their first child — well, actually children, as they are expecting twins!
"I felt this little bump," Ramirez told People. "And I said, 'Oh my God, let me do some crunches, I'm eating too much.' That's how I found out!"
The 33-year-old actress said she is due this winter, but doesn't want to reveal the exact due date.
"I'm keeping that to myself right now. They're still little," she said.
Ramirez said it was "shocking" to find out she was expecting twins, but she always hoped as a little girl that this would happen.
"My grandmother has twins and triplets, but it's still shocking and it's still surprising. My older sister has two kids — and she didn't get twins — so it wasn't like 'How could this happen?' but at the same time, I was thinking one," she said.
Next up: Pregnant Fergie wears parachute pants!
Photo courtesy of Dania Ramirez's Instagram