Pregnant Celebrity
Photo Gallery
Happy Wednesday Hump Day — also known to us as Celebrity Baby Bump Day! We have rounded up the cutest pregnant celebrities of the week including Megan Fox, who was spotted with her son Noah. Pregnant Jennifer Love Hewitt was spotted in a bump-hugging black dress, while Danielle Jonas showed off her sporty maternity style. Devious Maids star Dania Ramirez, who is expecting twins, looked cute in a bikini while pregnant Fergie rounds out our list of cute expecting celebrities of the week.
(page 2 of 5)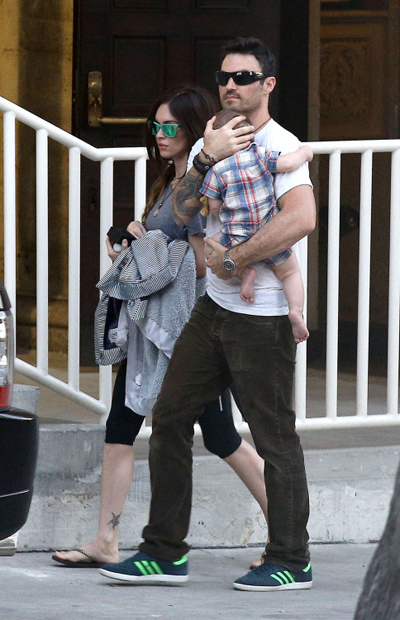 Megan Fox
Pregnant Megan Fox was spotted out in Los Angeles with her husband, Brian Austin Green, as he kept a protective hand on their 11-month-old son Noah.
Fox wore reflective green shades and was holding a Little Giraffe Chenille Baby Blanket ($69) in her hand, which covered her baby bump.
The 27-year-old former Transformers star and her husband are expecting their second child together, and the couple's publicist reports "they are both very happy."
Fox, who is currently filming Teenage Mutant Ninja Turtles, may be taking a break from acting for a bit to raise her tiny tots. "All I wanted to do my whole, whole life was have a baby and, now, I've finally done it. I just want to give Noah as much of myself as I can. And I want to have more kids. That is where my heart is," she said.
Next up: Jonas Brother baby! Pregnant Danielle Jonas gets sporty