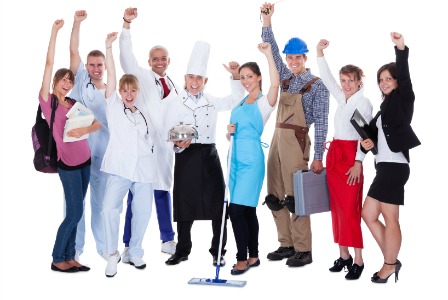 Even if your kids are a few years away from their first jobs, these Labor Day facts and trivia for kids will teach your youngsters that this national holiday is more than just another day off from school.
Hard-working history of Labor Day
From when Labor Day is celebrated to why you can't wear white after Labor Day, uncover the fun and informative history of Labor Day.
Q: Why do we celebrate Labor Day?
A: This national holiday celebrates the achievements of the American worker as a result of the labor movement of the 19th century. During the 1800s, labor unions fought to free the American worker of 16-hour workdays and harmful work environments, establishing more rights for employees.
Q: When is Labor Day celebrated?
A: Labor Day is celebrated on the first Monday in September every year. However, this celebration of the American worker wasn't always a designated day throughout the country.
Q: When was the first Labor Day observed?
A: According to the U.S. Department of Labor, the first observance of Labor Day was recognized on Tuesday, September 5, 1882, when an estimated 10,000 workers gathered for a parade in New York City organized by the Central Labor Union. The organization urged similar labor organizations to celebrate their own "workingmen's holiday" event, an idea that caught on throughout more than half of the states in the country by 1894. That same year, President Grover Cleveland signed a bill on June 29, 1894 to designate the first Monday in September as Labor Day.
Q: Which state was the first to officially make Labor Day a state-recognized holiday?
A: In 1887, Oregon was the first state to make Labor Day a holiday, seven years before the President declared the celebration a national holiday.
Q: Do other countries celebrate Labor Day?
A: While the United States is the birth place of this annual holiday, similar worker's days are also celebrated in other countries such as Australia, Canada, Jamaica, New Zealand, Trinidad and Tobago in association with each country's labor movement.
Q: How have jobs changed in the last 100 years?
A: Census.gov reports that the farm owner and tenant industry accounted for the largest number of employees in 1910, while retail salespeople made up the prime employee base in the country as of May 2012.
Q: How many people work in the United States?
A: There are 155.7 million people age 16 years and older in the country's labor force as of May 2013 according to the U.S. Bureau of Labor Statistics.
Q: How old do you have to be to get a job?
A: While the United States Department of Labor states that rules vary depending upon state, job type and age of the minor, on average a person must be 14 years or older to enter the workforce. The number of hours minors under the age of 16 is also limited but varies by state. However, Forbes.com reports that children as young as five and six years old worked in factories and mines in the late 1800s.
Q: Why do people say not to wear white after Labor Day?
A: While much of the population has left this fashion faux pas in the past, the actual origin of the fashion decree of not wearing white after Labor Day is up for debate. Many people mark the end of summer with the Labor Day holiday, so some say that leaving the breezy, carefree linens and white clothing for hotter months was a symbolic way of waving bye-bye to summertime. Others say that the change in weather around this date doesn't permit white attire. Either way, it's now safe to wear your bright whites in public past the September marker in today's society.
More about Labor Day
Throw a family-friendly Labor Day party
Labor Day weekend activities
Teaching your kids about the meaning of Labor Day