Personalizing
fertility treatments
Many couples who are trying to conceive consider IVF as a "last resort." But learning about their chances of IVF success up front can help some couples conceive sooner rather than later instead of going through multiple types of fertility treatments first — and the emotional and physical toll that inevitably accompanies such efforts.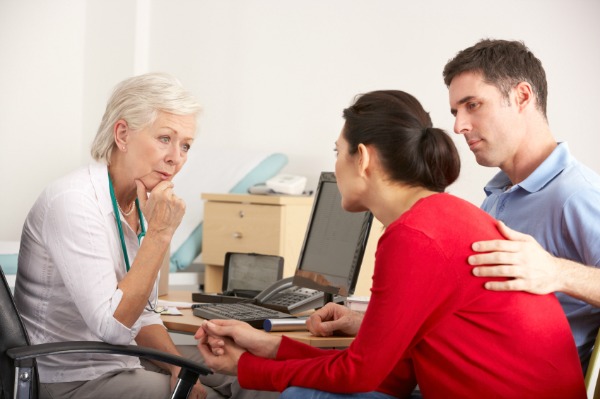 The journey from couple to family can be less gut-wrenching for couples facing infertility or who exhibit risk factors for infertility. New testing technology will save patients time and money by predicting whether IVF will work or not.
Risk factors for infertility
Simply witnessing another couple's trials with infertility can encourage two people to get started on their family sooner or even think about the possibility of infertility before it "officially" strikes them.
If you're ready to start trying for a baby, knowing your risk factors for infertility can increase your odds of becoming pregnant faster. According to Dr. Mylene Yao, cofounder and CEO of Univfy Inc., the company behind predictive testing technology regarding IVF, the following symptoms and health problems are just some of the risk factors for infertility:
Irregular menstrual periods, which may signal ovulatory disorders.
Regular, strenuous exercise such as marathons or ballet training.
Uterine fibroids (heavy menstrual bleeding), uterine polyps (irregular bleeding) or infection (vaginal discharge).
Family history of genetic conditions that predispose a woman to early ovarian aging or early menopause.
Non-reproductive medical illnesses like diabetes, heart disease, kidney disease or thyroid disease.
For the male partner: Undescended testes at birth, mumps, genetic conditions like Klinefelter's syndrome or lifestyle factors like athletic training, use of hot tub, etc.
If you or your partner fit into any of these risk categories, Yao recommends seeing a fertility expert before you go on that amazing and unpredictable journey of TTC. You don't need to try to conceive for a certain amount of time before seeking assistance.
Advancements in IVF technology
IVF treatments are costly, and they don't always work. This can cause extreme financial, physical and emotional stress. Univfy's efforts to "personalize" fertility treatments can be found with Univfy PreIVF, their predictive technology which can tell patients if IVF will work for them or not, despite their age or other personal health factors.
"Although other treatments may be tried first, IVF is the most effective treatment for most couples, and would typically be recommended if other options don't work after one or a few tries," says Yao. "It's good for couples to learn about their personalized chances of IVF success up front, so that they do not see IVF as a 'last resort.' Then they will be in a much better position to judge how IVF fits into their fertility journey and not wait too long to get to it."
Other developments in fertility treatments include the EmbryoScope which can monitor up to 12 embryos at once from conception through the first five days of development using an incubator, microscope and time-lapse camera. This careful watch captures over 5,000 pictures of embryos in development, allowing fertility specialists to select the most viable embryos for IVF. European clinical trials have reported a 20 to 25 percent increase in pregnancy rates with this cutting-edge medical technology.
"We can now select embryos with unprecedented precision," says Dr. John Rapisarda of Fertility Centers of Illinois, one of about 15 centers in the United States that offer this EmbryoScope. "The capabilities of this technology may help patients achieve their family planning goals by keeping a close eye on the embryo."
More articles about infertility
Infertility and the media
Infertility: Is your thyroid to blame?
When you don't have as many children as you want