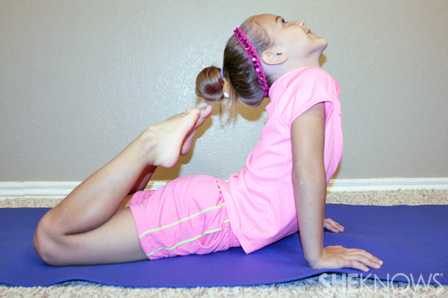 I've been practicing yoga seriously since my daughter was a few weeks old. She's watched me go from a wobbly, anxious new parent to a sometimes centered, seasoned yogi. And now, as a preschooler, she regularly enjoys yoga too.
Yoga for children
Yoga poses for kids
While my daughter has been performing tree pose variations (swaying tree, hopping tree and singing tree) since she could stand, as a preschooler she now shows genuine interest in learning postures. And you know her yogini mama loves that!
Learning about yoga early and developing a practice is a wonderful habit for young children. Not only will it get your kids moving and engaged in a fun physical activity, but the practice itself can help kids feel more focused, calm and keep kids stress-free (as they should be).
Here are nine yoga poses that your kids will love:
Bridge: Setu Bandha Sarvangasana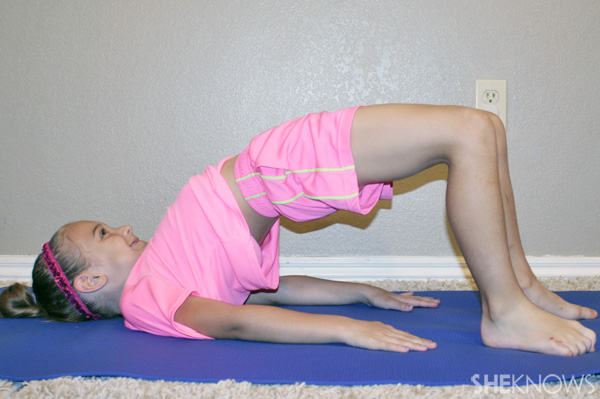 Have the child lie on her back and bend both knees so her feet are flat on the ground. Instruct her to bring feet in close to her bottom and lift her hips high to the sky. Most kids have a very flexible spine so they can press hips up very high, but this pose is also great for leg strength, ankle stability and energy.
Doggy: Adho Muhka Svanasana (downward-facing dog)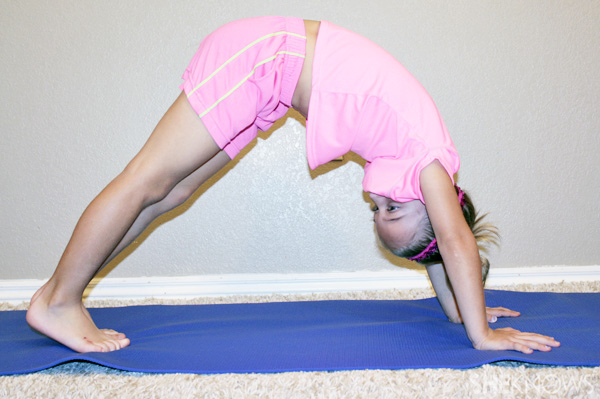 Have the child begin on hands and knees in a tabletop position, then tuck the toes and lift the bottom high so her body and the mat create a triangle. Kids will naturally stand on their tiptoes so you can instruct them to drop their heels toward the mat and let their head hang like a sad puppy dog.
Crescent moon: Ardha Chandrasana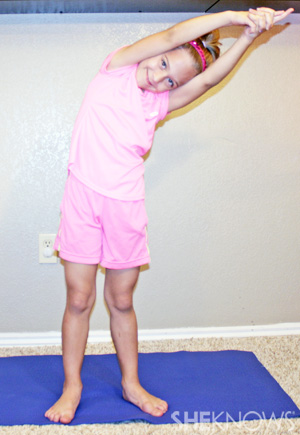 Have child stand on both feet and reach arms to the sky, clasping the fingers (except for pointer fingers) and crossing thumbs over one another. Instruct the child to trace an imaginary line on the sky first to the right, going over as far as she can and hold, then to the left. Finally allowing the head to drop back, trace the line behind her pressing the hips forward.
Tree: Vrkasana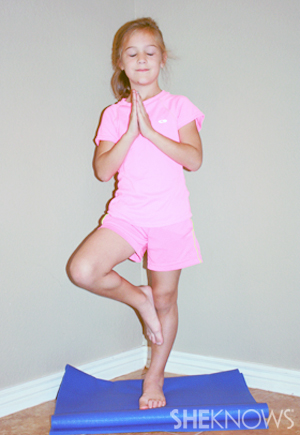 Standing steady on two feet, instruct the child to press one foot firmly into the mat while allowing the opposite heel to lift. Once stable, turn out the knee with the heel lifted and bring the heel to the inner ankle. If the child feels steady here, she can play around with lifting the toes completely off the mat and setting the foot on the opposite leg*.
Note: *For most kids, it will come to the mid-calf. If they are very steady they can place it a bit higher, as long as they don't press directly into the knee joint. This pose will help with balance, focus and leg strength and stability.
Mountain: Tadasana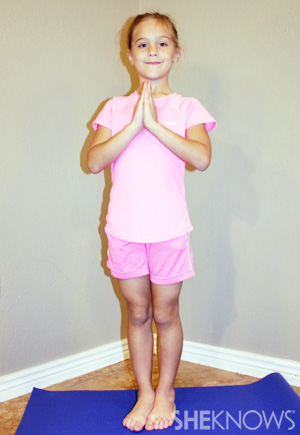 Standing tall on the mat, tell the child to close her eyes and press feet firmly into the ground. Imagine she is a mountain standing tall and proud! This pose helps with posture, leg strength and stability.
Ragdoll: Uttanasana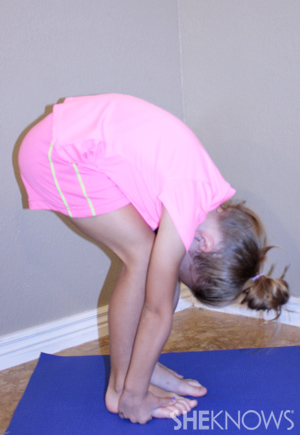 Tell the child to bend over, letting knees bend slightly. Let the head and arms release over and gently sway side to side. This pose helps with circulation, anxiety and flexibility of spine and hamstrings.
Happy baby: Ananda Balasana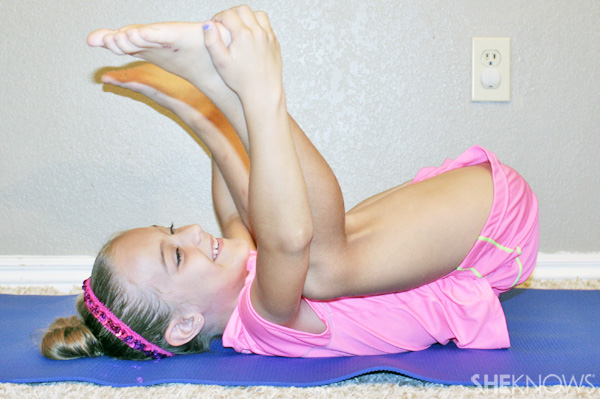 From back, pull the knees toward belly and then grab onto the outsides of the feet. Open knees as wide as the torso and press feet into hands. Kids generally have super flexible hips and this is a great pose for maintaining that flexibility — especially when they are in school or otherwise sitting for periods of time.
Butterfly pose: Baddha Konasana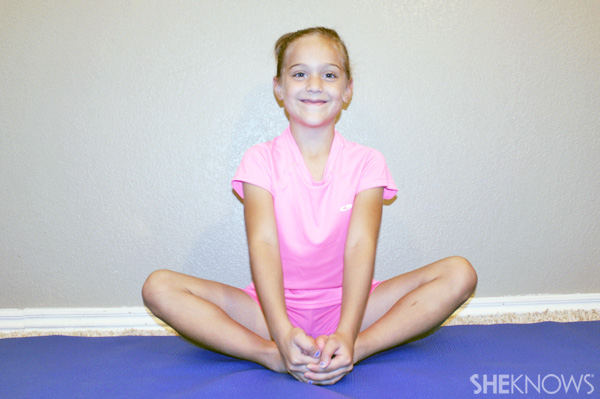 Sitting up tall, bring soles of the feet together and let the knees drop open. Hold onto the feet with the hands and flap the knees like butterfly wings. This pose stretches knees, thighs and improves circulation.
Child's pose: Balasana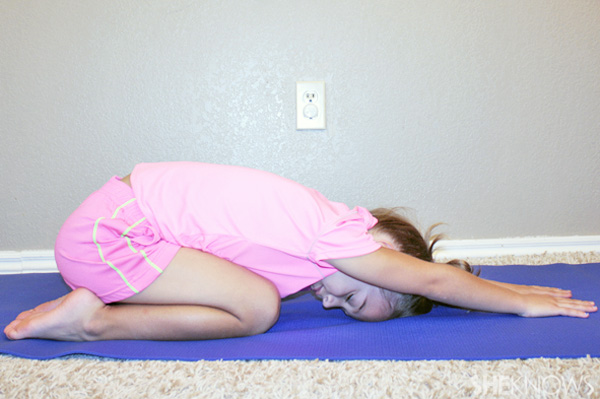 This list wouldn't be complete without the pose of the child. From all fours, tell the child to sit back on her heels, resting her head on the mat. The fingers walk away from the body. This stretches hips, thighs, ankles and brings a sense of calm, making it the perfect pose to begin or end a yoga practice.
Image credit: Kristin Bustamante
More about children's health and development
Why it's wrong to deny yoga in school
How sign language can help your late talker
Top 6 things you should never say to your kids
More From SheKnows Explorer