Pregnant Celebrity
Photo Gallery
Happy Wednesday Hump Day — also known to us as Celebrity Baby Bump Day! We have rounded up the cutest pregnant celebrities of the week, including pregnant Jennifer Love Hewitt and Glee's Heather Morris. Kevin Jonas' wife, Danielle Jonas, showed off her baby bump for the first time, while Fergie shared pictures of her growing baby bump in an itty-bitty dress. Jack Osbourne's pregnant wife, Lisa Stelly, rounds out our list of cute pregnant celebrities of the week.
(page 5 of 5)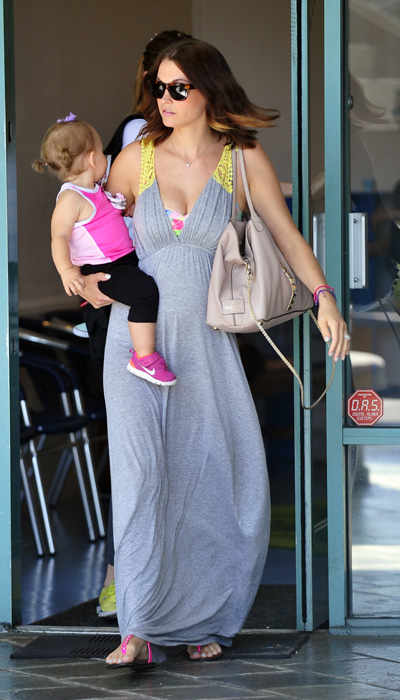 Lisa Stelly Osbourne
Sharon and Ozzy Osbourne are about to be grandparents again, as their son Jack Osbourne and his wife Lisa Stelly are expecting their second baby.
Lisa was spotted showing off her baby bump in a maxi dress as she left a child's play center with her daughter, 1-year-old Pearl.
"Jack and I are super excited to share with you all that we are expecting our second baby!" she wrote on her blog. "I am in my second trimester, feeling great & trying not to eat everything in sight."
She also revealed on her blog that she doesn't like to splurge on maternity clothes.
"For most women, an expanding pregnancy body is not the most fun thing to dress," she wrote. "I have this weird hang-up about spending money on 'maternity clothes' I'll only wear when I'm pregnant. I have come up with a pretty good solution for this. You only really need a couple of 'maternity items' during your pregnancy. The rest of the stuff you buy can be normal clothing."
All photos WENN unless noted otherwise