Warm and cozy
crafts for fall
As the seasons change it's time to pull out all of those warm and cozy sweaters. If you have a few sweaters that are too small or worn out to wear this year, don't throw them away! Upcycle those old sweaters into these cute sweater crafts!
Upcycled sweater caterpillar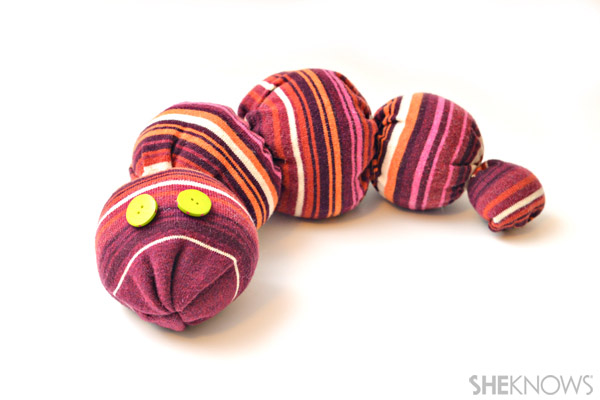 What you'll need:
an old striped sweater
scissors
embroidery floss
stuffing
buttons
glue
What you'll do:
Cut the sleeve off an old striped sweater and turn the sleeve inside out.
Gather the wrist end of the sleeve and tie it shut with a piece of embroidery floss.
Turn the sleeve right side out and stuff a handful of stuffing into the closed end of the sleeve.
Cut another piece of embroidery floss and tie off the sleeve behind the stuffing to form the caterpillar's head.
Keep adding handfuls of stuffing, tying off in between, until you reach the end of the sleeve.
Once you reach the end of the sleeve, gather and tie off the end like you did in Step 2.
Glue two buttons to the caterpillar's head to make the eyes.
Upcycled sweater mittens
What you'll need:
an old sweater
marker
scissors
sewing machine
What you'll do:
Lay the old sweater out flat on the table with the bottom sides of the sweater lined up evenly.
Lay your child's hands out on top of the sweater, with wrists at the bottom edge of the sweater.
Trace around your child's hands with the marker to make the outline of the mitten.
Cut out the mitten shape through both sides of the sweater. You will have four pieces total, two for each hand.
Lay the mitten pieces so that the right sides are together, then sew around the edge of the mittens, leaving the bottom open.
Turn the mittens right side out and your upcycled sweater mittens are ready to wear!
Felted sweater ball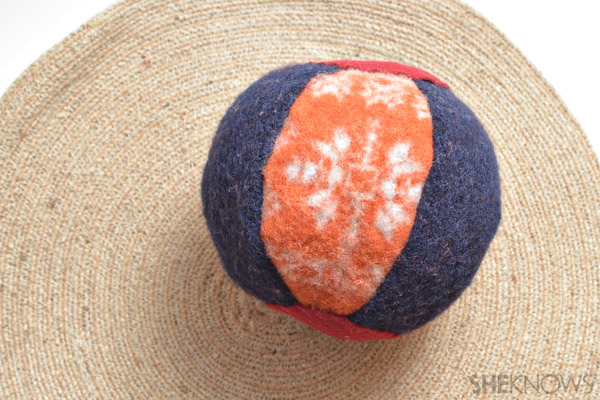 What you'll need:
100-percent wool sweaters
scissors
sewing machine
needle
thread
craft felt
stuffing
What you'll do:
Felt the wool sweaters by washing them in hot water in the washing machine, then drying them in the dryer on high.
Cut out six football-shaped pieces of felted wool.
Lay out two of the football shapes overlapping each other with right sides together. Sew along one edge of the fabric.
Keep adding pieces of felted wool until all six pieces are sewn together. Leave one end of the ball open for stuffing.
Turn the ball right side out and fill it with stuffing.
Cut out two 2-inch circles from the craft felt.
Thread the needle and sew the two circles to the top and bottom of the ball.
More craft ideas
Bubble wrap crafts for kids
Popsicle stick crafts you haven't seen before!
5 Crafts inspired by favorite children's books