(page 2 of 2)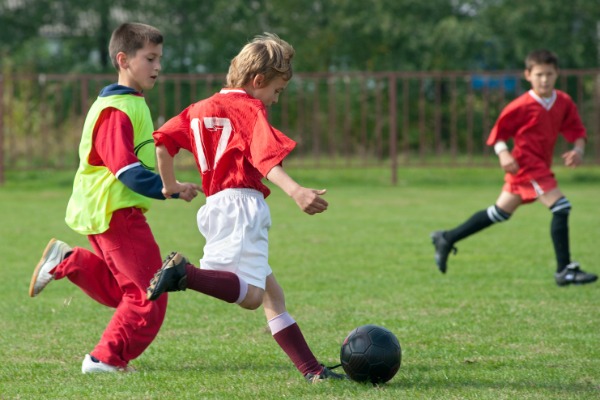 6
After-school extracurricular activities
Does your child love karate? Or have an interest in music? Why not sign him up for after-school activities!
"With kids whose interests change as often as the weather, you can plan one or two activities an afternoon, hitting soccer on Mondays, piano on Tuesdays, math tutoring on Wednesdays… and so on," suggests Bugbee. "The only issue is getting someone to get them to these classes, which is where a parenting co-op or an after-school nanny can help."
Some schools also offer sports and other extracurricular activities right at the school so you don't have to worry with transportation. These types of programs usually last one to two hours, so they might not work for every situation, but could be ideal for some families.
"This could also be a great option for parents who can work from home and can bring their computer to the field or center," she says.
7
Having older siblings watch younger siblings
This is the option that many adults remember from their own childhood — the older teen taking care of the younger sibling until the parent gets home from work. Should you try out this option in your own household?
"Rather than focus on age, I would start by looking at the relationship between the siblings," says Dr. Borba. "For example, recent reports warned about sibling bullying and when you're not around, this could be more severe. Additionally, you should ask the older child if they feel comfortable watching the younger sibling. Watch from afar to observe how the children handle the situation."
8
Staying with relatives after school
For families short on money, staying with a relative could be the ideal situation. If there are grandparents in good health, for example, they might enjoy spending time with their grandson or granddaughter for a few hours after school each day.
If you have a sister or brother or cousins with kids of the similar age, perhaps you could arrange a co-op with them to trade off watching each other's kids and handling pick-up duty.
Check with your local church, as many will offer after-school care programs for an affordable rate. Some may offer transportation or perhaps you can coordinate with a friend who takes the children and you can pick them up after work.
Get your teen involved in the community by signing them up for a volunteer program after school. In addition to adding a bright spot on their college resume, they can also feel good knowing they are giving their time back to the community.
11
When can kids stay home alone?
What age can your child be home alone? "Many researchers say around 12 years old is a good age, however the ability to stay home alone is not just about age," says Dr. Borba. "There are other important factors that must be considered. One factor is legality. Some states (ex. Connecticut) actually have rules about how old the child should be, so be sure to look into the state laws."
What are the signs that your child is mature enough to be home alone? "Responsibility is a big factor. Parents, ask yourself: Is he/she not just responsible alone, but do they follow rules, do chores and complete their homework without your supervision?" says Dr. Borba, who says to make sure you leave emergency contact numbers. "Consider their problem-solving skills and determine whether you trust that they can act independently in case of an emergency."
She also says to consider their judgment and the surroundings, including how safe is your neighborhood and the proximity to other neighbors.
"Gauge your child's comfort with being home alone and ask the child how they feel about it. Test it out by leaving the child home for 10 or 30 minutes, and then slowly increase the time periods based on their comfort level," she says.
It is interesting to note that a poll of SheKnows readers reveals they wouldn't leave their child home alone until they were 15 or older.
More about school-age kids
The kids' home alone debate: What's the right age?
5 Reasons why your kids should have cell phones
Choosing a caregiver for your special needs child