How real moms
have responded
Parenting in public can be tough, especially when a stranger chimes in and tries to "help." But, who says you have to sit back and take advice from strangers?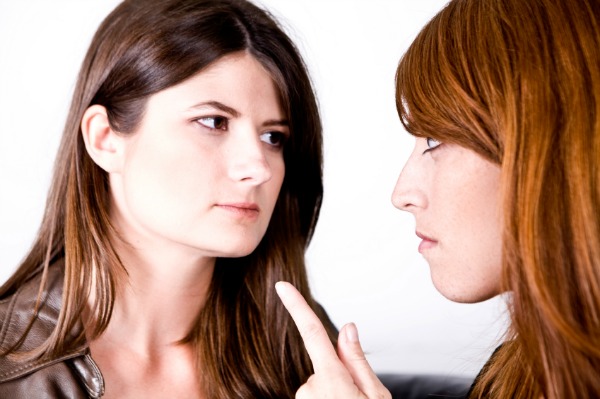 Before you resort to becoming a shrinking violet, check out how real moms responded with these ready-to-go comebacks to unsolicited parenting advice.
Stand your ground
Parenting author Kerri Zane proves that you can stand your ground without starting a bar-worthy fight by choosing your comeback words carefully. "When anyone would give me advice about raising my daughters, the answer would always be, 'While I appreciate your input I didn't ask for it. I am fairly confident I know this child more intimately than anyone else on the planet and will handle her as I see fit.'" Surely the look on their faces will be priceless!
Respond with humor
Laughter is truly the best medicine, especially when you're serving it up to busy-body strangers doting unsolicited parenting advice! "The husband and I took our twins out for a Valentine's Day dinner when they were only a few months old. As we were waiting in the lobby of the restaurant to be seated, an elderly woman with her husband suggested that I cover my twins up a little better because there was a breeze that came in when the door opened," shares Kesha Phillips from We Got Kidz.
"Little did she know that my twins were properly layered and I'd received a confirmation from my doctor only a week earlier that I was dressing my children well for the cold winter months," she says. "I looked the women in the eye and said as sweetly as I could, 'I truly appreciate your concern, but I have no interest in cooking my children.' The husband of the elderly woman couldn't help but to laugh."
Graciously accept advice from strangers
"As a mother of two, when I would get comments or suggestions from family or strangers the only goal I had in mind was to stop the conversation," explains Julia Simens, author of Emotional Resilience and the Expat Child." This worked well for me: 'Thanks, that is an interesting comment, I will share it with my husband and we will see how it fits into our parenting goals.' This sort of statement tells the person that you heard them but would not immediately act on their recommendation. It also allows you the ability to distance yourself from the heat of the moment."
As hard as it may be to hold back clever comebacks to unsolicited parenting advice, Dr. Fran Walfish, child and family psychotherapist, advises you to keep your trap shut. "Sometimes, it's best to say nothing to people who clearly do not know you, your kids or your family situation. We are living in a culture of judgment and opinion. Bottom line: It's nobody's beeswax." So, the next time you're met with advice from strangers about your parenting skills, a simple smile may do, even though these comebacks are oh-so-much-more satisfying!
More parenting tips and advice
Should kids wear sunglasses?
Do you emotionally neglect your kids?
Parental rights against bullying