A fun way to reuse
and repurpose
Sometimes the simplest crafts are the most entertaining. Your kids will have hours of fun with an upcycled old cereal box and paper towel roll transformed into a beautiful kaleidoscope — no fancy supplies required!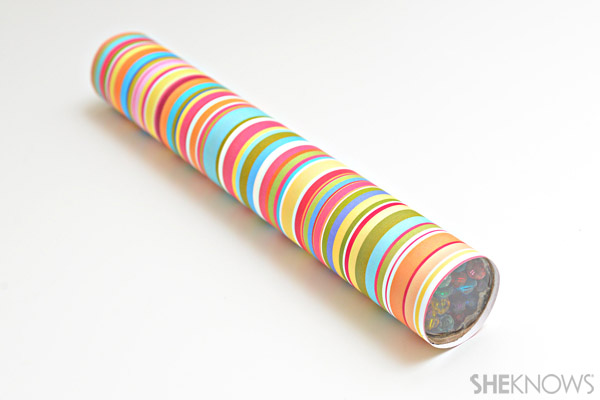 What you'll need: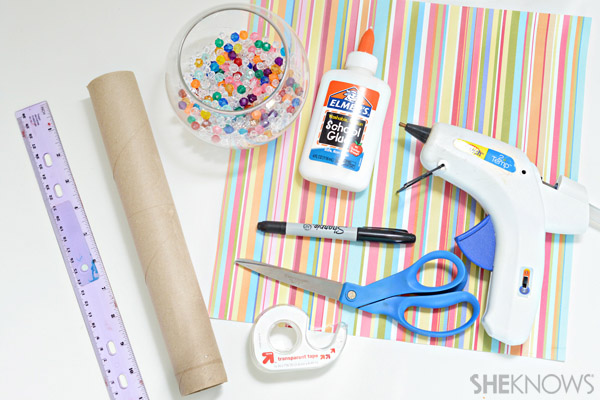 paper towel roll
ruler
multicolored translucent beads
tape
glue
hot glue gun
clear plastic fruit box
marker
scissors
aluminum foil
empty cereal box
colored scrapbook paper
What you'll do:
1
Step 1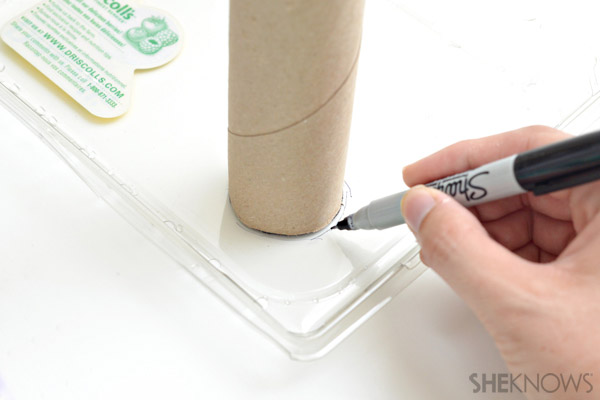 Use the marker to trace around the end of the paper towel roll on the clear plastic.
2
Step 2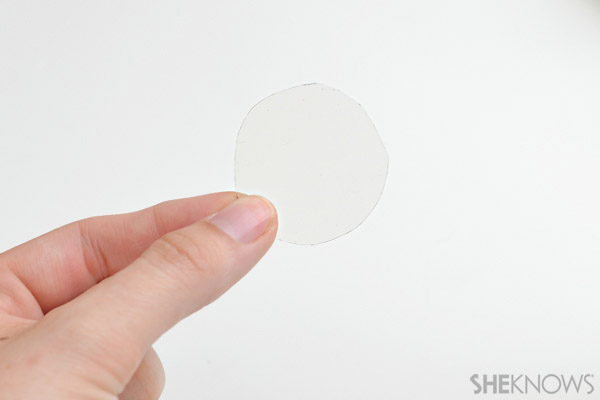 Cut out the piece of plastic so that it is just small enough to fit inside the end of the paper towel roll.
3
Step 3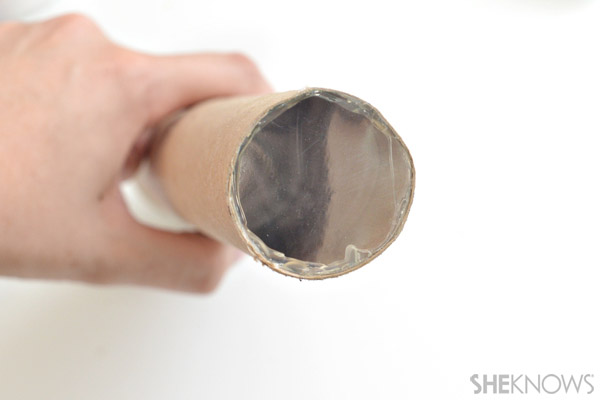 Put a small amount of hot glue along the inside rim of the paper towel roll, then slide the plastic circle into the roll so that the glue holds it in place.  (Caution — only adults should handle the hot glue gun.)
4
Step 4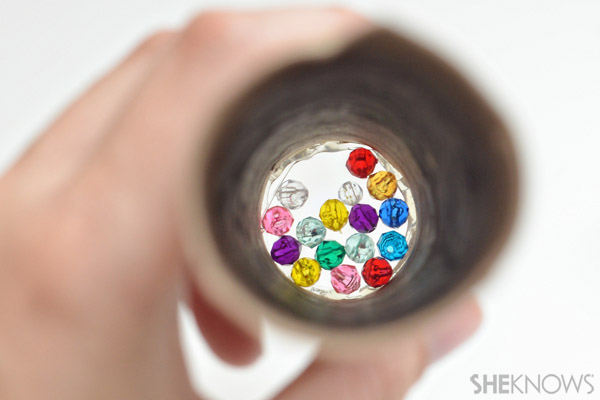 Start dropping the translucent beads into the paper towel roll.
5
Step 5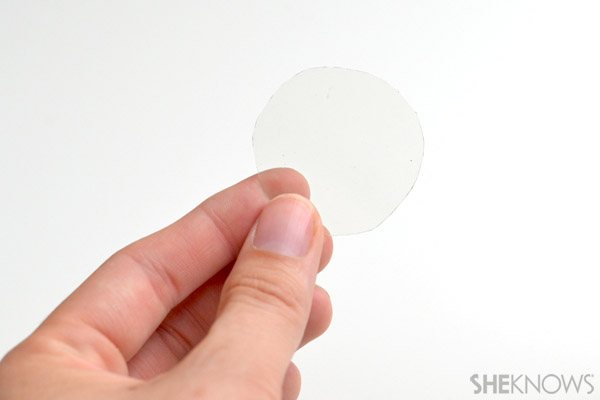 Cut a second small plastic circle using the same method as the first circle. Drop the circle inside the tube on top of the beads. Use your ruler to help it lay flat if necessary.
6
Step 6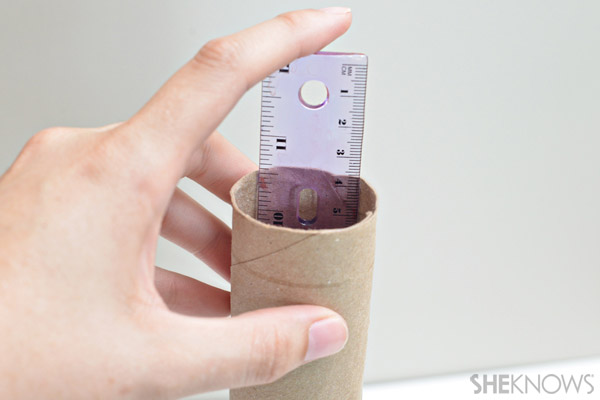 Drop the ruler down into the tube and measure the distance between the second plastic circle and the top of the paper towel roll.
7
Step 7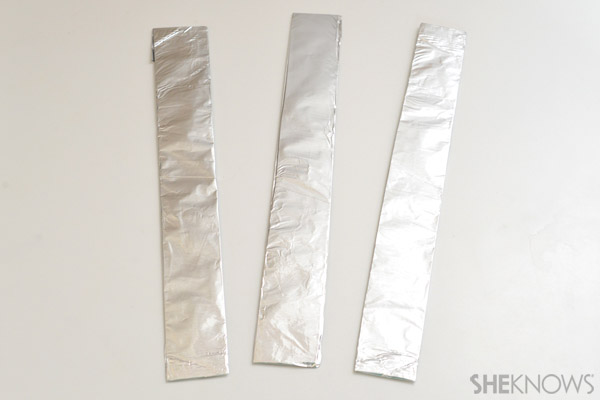 Cut out 3 strips of cardboard from the cereal box that are 1 inch wide, and as long as the distance that you measured. Wrap the 3 pieces of cardboard in aluminum foil with the reflective side out. Use tape to keep the aluminum foil in place.
8
Step 8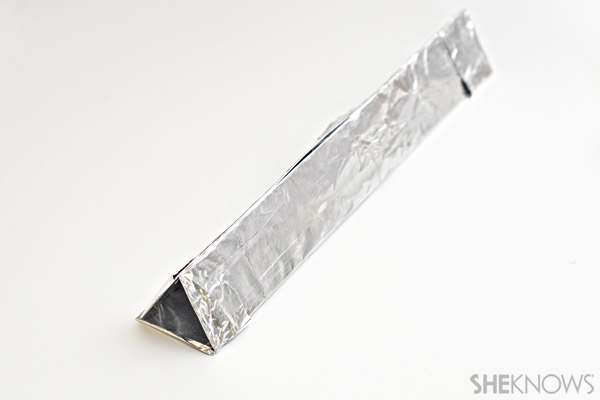 Tape the 3 pieces of cardboard together so that they form a triangle.
9
Step 9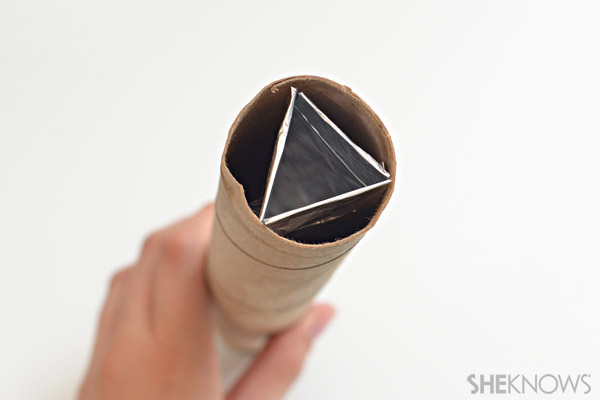 Slide the triangle inside the tube so that it is resting on top of the second plastic circle. Mine fit pretty snugly in the tube, but you can secure the triangle in place with tape, if necessary.
10
Step 10
Cut the piece of scrapbook paper so that it is as long as the paper towel roll and wide enough to wrap all the way around the roll. Attach paper to the paper towel roll with tape. Point the kaleidoscope toward a window and spin it to see the different colors and reflections.
More fun crafts for kids
Easy ocean-themed crafts for kids
Fun flip-flop crafts for kids
5 Cute rainy day crafts for kids