Pregnant Celebrity
Photo Gallery
Happy Wednesday Hump Day — also known to us as Celebrity Baby Bump Day! We have rounded up the cutest pregnant celebrities of the week, including Fergie, who celebrated her pregnancy with an outrageous "gayby" shower! The Real Housewives of Atlanta's Kim Zolciak is pregnant with baby No. 5 and showed off her baby bump via Twitter, as did pregnant Jaime King, who looked gorgeous in a white bikini. Pregnant Halle Berry and Courtney Mazza round out our list of cute pregnant celebrities of the week.
(page 2 of 5)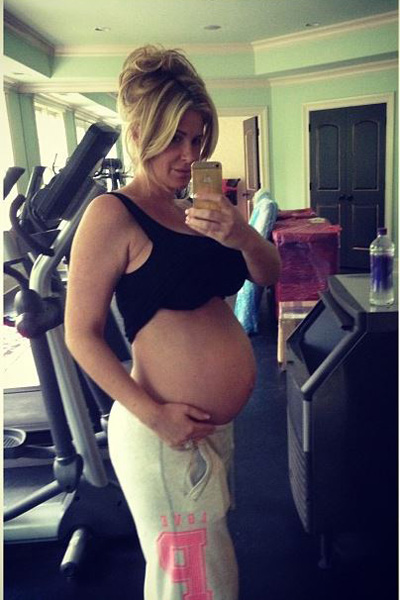 Kim Zolciak
"You asked for it ...here is my baby bump this morning!!" The Real Housewives of Atlanta's Kim Zolciak wrote on Instagram, sharing this photo of her bare baby bump at the gym.
This is the fifth child for the 35-year-old reality star, who has two older daughters from a previous relationship (16-year-old Brielle and 12-year-old Ariana) and two sons (2-year-old Kroy, Jr. and 10-month-old Kash) with her husband Kroy Biermann.
Kroy, who plays defensive end for the Atlanta Falcons, recently adopted Brielle and Ariana.
"It is OFFICIAL @biermann71 Adopted @BrielleZolciak @arianazolciak we couldn't be happier we are all BIERMANN'S!! So blessed 2 have Kroy!" Kim tweeted on July 26.
No word on the sex of the baby, but a source told Us Weekly that Kroy and Kim would love another girl. "Brielle and Ariana are older now, and Kroy wants a girl of his own," the source revealed.
Next up: Hart of Dixie's Jaime King shows off her tattoo on her baby bump in a tiny bikini