6 ways to get your child writing
With homework and busy schedules, how do you make time for writing practice? To truly encourage your kid's creative writing, avoid making it a chore.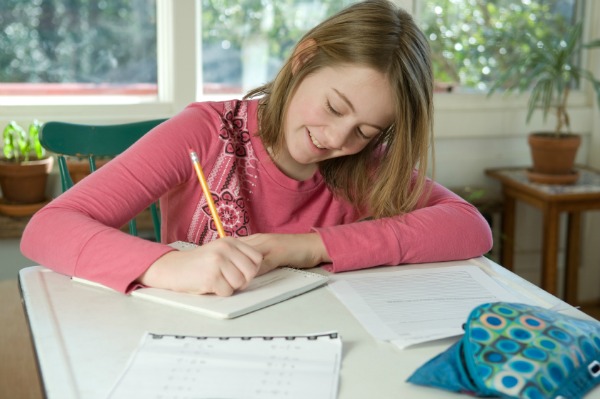 As school begins, boost your child's creative writing skills with these six easy ways to get your child writing. These ideas encourage writing without pressuring kids. Try one or all of these ideas to inspire a love of writing in your kids.
1
Send letters in the mail
Encourage old-fashioned correspondence. In this digital age, kids are still enchanted by the idea of the postal service. Encourage your kids to write letters to grandparents or peers. Start at an early age, with letters that consist mostly of drawings. Single sentences will eventually lead to fully-formed letters if you begin the tradition early.
Kids who balk at the idea of creative writing might not realize that comic books begin with written stories. Talk about the role of a comic book writer and encourage your child to try writing her own comics. Even stick figures with thought bubbles count. If your child becomes enthused, help her laminate and bind her own comic book when it's done.
3
Create your own board game
If your child is still struggling with putting ideas on paper, consider a totally different structure. Instead of writing a story or a letter, have him help you write directions for your own handmade board game or card game. Model it after an existing game or come up with something entirely new.
4
Offer rewards for journaling
Make writing stories or working on a journal an optional activity. To encourage persistence, give your child the opportunity to earn rewards by completing full pages in his journal. When it comes to writing stories, don't set limits on subject matter. Let his imagination run wild and don't worry too much about grammar or spelling.
5
Hang a family whiteboard
Who can resist the temptation of a clean whiteboard? Hang a board in a central location and offer each family member a unique color to write with. Write notes to each other, doodle pictures or begin a story that each family member can add a few words or sentences to. As the board fills up, document it with a photo, erase it and start all over again.
6
Give your child an email address
As soon as your child is old enough to read and use a keyboard, you can teach her how to send emails. They key is adequate supervision. Your child should only be allowed to send and receive email from trusted family members. Encourage her to write emails to aunts and uncles, grandparents and other trusted adults.
More back to school
8 Tools to stay organized this year
Signs your child is (or isn't) ready for preschool
Working mom? How to get involved at school