Add some olé to your family time!
Family night feeling a little fuddy-duddy? Add some spice to your family time by planning a Mexican fiesta family dinner night. From tacos to Tejano music, here are the recipes, crafts and decor you'll need for a fun family night.

Taco Bar
Here are three great recipes that are simple to make for Mexican Fiesta Night. There's no need to make a fancy plate for every guest since all of the menu items are self-serve and super challenging to mess up.
Appetizer: Nachos
Melt a package of Velveeta cheese in a slow cooker with a can of Rotel tomatoes and set it to simmer on low. Place the nacho cheese at the beginning of the taco bar so your guests have the options of serving themselves chips and dip or using the nacho cheese as a zesty topping for their tacos.
Main course: Taco bar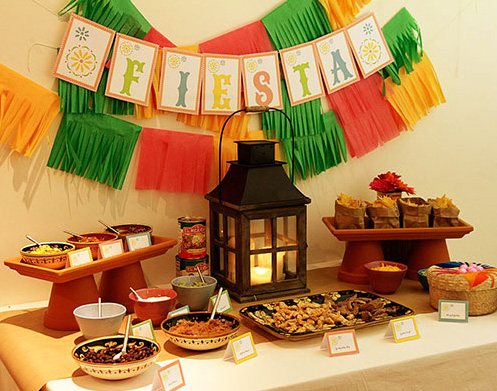 Taco night has everything we love about a go-to dinner — tacos are fast, foolproof and fairly nutritious. Brown your ground beef or chicken with a premade taco-seasoning packet to make preparation a breeze. Then warm a package of crispy taco shells in your oven for 5 minutes. Finally, display your toppings in colorful bowls across the bar. We like to offer both hot and cool toppings to please all partygoer palates. Think freshly chopped cilantro, pico de gallo, creamy guacamole, chopped iceberg lettuce, fire-hot salsa, cheese and sour cream. Make it unique with outside-the-box toppings like pomegranate seeds, broccoli slaw or jalapeño ranch dressing.
Carla over at Paper and Party Love knows how to throw a fiesta! Her taco bar was the perfect setup for a small Mexican-themed get-together, and her bagged tortilla chips put a fun spin on a traditional food.
Dessert: Sopaipillas with agave nectar and ice cream
Sweet and fluffy sopaipillas are a snap to make with store-bought tortillas. Cut flour tortillas into eight pieces and drop them into a deep fryer. When they're golden brown and bubbly, remove them from the oil and sprinkle with cinnamon or powdered sugar. Serve with agave nectar and vanilla bean ice cream.
Hispanic-heritage crafts
Maybe you're looking for an after-dinner activity, or maybe you need to put your kids to work on the party decor. Either way, there are several beautiful Hispanic crafts that are easy enough for even the youngest children to create, and they'll remain gorgeous year-round. Blogger Catherine at Your Modern Couple gave us a few ideas about how it should be done.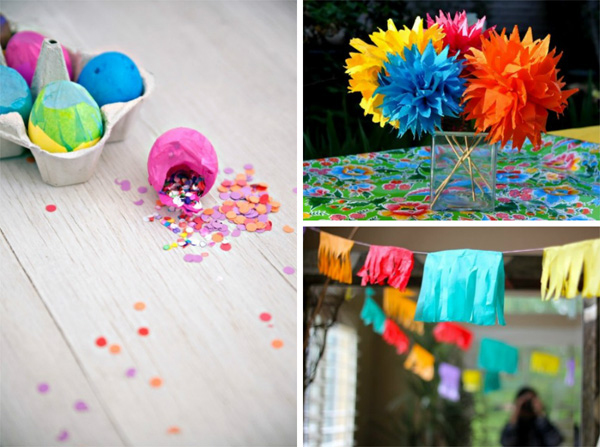 Cascarónes
Purchase 1–2 dozen eggs and crack open one end of each with a skewer, draining the egg yolk and white but keeping the majority of the shell intact. Rinse and set them to dry. Paint or dye the drained eggs and fill them with confetti. Glue a small piece of tissue paper over the open end to hold the confetti inside. Use the cascarónes as decor until it's time to smash the eggs on fiesta-goers' heads.
Tissue paper flowers
Gorgeous tissue paper flowers are brighter than most flowers, and they never wilt. Follow the simple instructions here to create multiple bouquets for the dinner table and maybe even a hairpiece for the girls in the family.
Colorful banners
Use your leftover tissue paper to make colorful banners for the ceiling. Fold sheets of tissue paper over a long piece of yarn and secure them with small pieces of tape. Fray the ends of the paper and hang the banners from the ceiling.
Transform the table
Your Mexican fiesta is nearly ready to begin. Hang the banners from the ceiling and drape a colorful runner down the center of your table. Arrange the cascarónes in bright serving bowls and place your bouquets of tissue flowers in the center of each plate. Use a mixture of colorful plates, napkins and cups for your table setting — we like Fiestaware — and send your brood to the taco bar to fill their bellies while a little Tejano music plays in the background. Now that you've brought the South to your dinner table finish off the night with a delish serving of Velveeta Cheesy Skillets Nacho Supreme. It'll be a family night not easily forgotten.
More family night ideas