Pregnant Celebrity
Photo Gallery
Happy Wednesday Hump Day — also known to us as Celebrity Baby Bump Day! We have rounded up the cutest pregnant celebrities of the week, including Jennifer Love Hewitt, who showed off her baby bump in a pretty floral dress. Pregnant Penelope Cruz showed off her baby bump for the last time this week before giving birth, while pregnant Fergie, Jaime King and Devious Maids star Dania Ramirez round out our list of cute pregnant celebrities.
(page 4 of 5)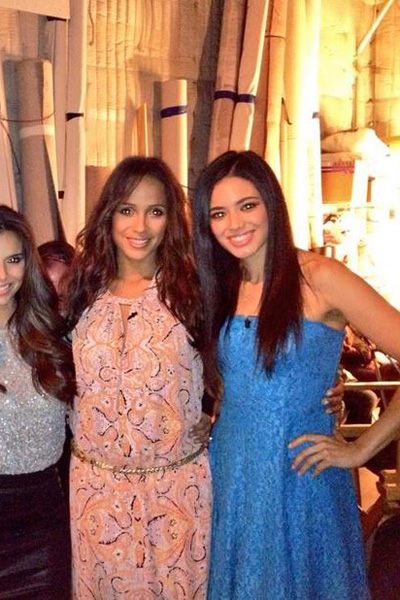 Dania Ramirez
"Morning Sickness is more like All Day Sickness!" tweeted pregnant Devious Maids star Dania Ramirez (pictured above, in the peach dress).
The 33-year-old actress announced she is expecting twins and even shared the ultrasound on Twitter.
"I am proud 2 Announce our 2 NEW BUNDLES OF JOY! Yes, I'm having TWINS!" she tweeted.
"And No They Do not Belong 2 Mr. Spence. Lol!" she added, referring to the man her character, Rosie Falta, works for on her Devious Maids show.
The twins will be the first for Ramirez and her husband, director Bev Land. The couple were married in February.
Ramirez posted the above photo of her (and her small baby bump!) with her Devious Maids co-stars as she appeared on The Talk.
Ramirez is wearing the BCBG Sleeveless Belted Maternity Dress ($268) from A Pea in the Pod.
Next up: Pregnant Jaime King wears a cute bump-hugging dress
Photo credit: Dania Ramirez via Twitter