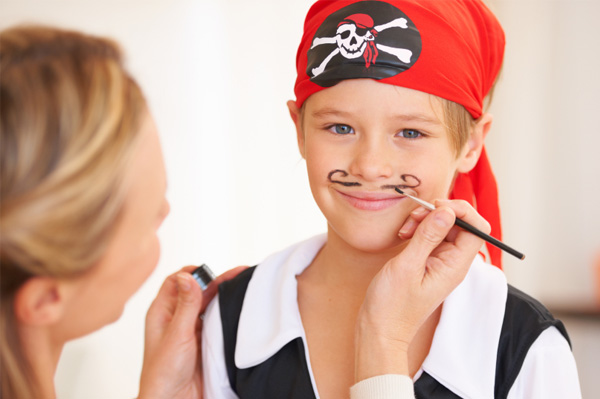 Spark your kids' imaginations
Imaginative play does wonders for children, and you can do wonders for them by giving them the tools to broaden their imaginary play.
Learning by doing
Imaginative play gives children the opportunity to develop crucial social and emotional skills, as well as language and problem-solving skills. By using their imaginations, they can give toys like wooden trains with working wheels or plastic connecting blocks a purpose with a story to tell. While giving toys a personality, your child is learning empathy and moral development.
Helping your child learn to use his imagination and creativity is simple and can be accomplished in many ways... with a little encouragement from you.
Help him create a story
Whatever toys or items your child is working with, help him create a story or event for the toys. Give him a simple scenario — perhaps the stuffed dragon attacks the doll's dream house or two trains crash when they both are on the same track going opposite directions. Now step back and allow your child to come up with what happens next.
Dress 'em up
Dig through your closet for some old dresses or your husband's old ties to add to your children's wardrobe — or stop by a Goodwill or thrift store and pick up some work shirts or costumes to help your children's role playing come to life.
Give them props
Think about how much fun you and your friends used to have with an old refrigerator box. Kids today can have just as much fun with simple items — they just may have never been presented with the opportunity. Hand over a few boxes of various size (the bigger the better!), some markers, paper and scraps of fabric for decorating (curtains for a kitchen window, perhaps?) and let your kids turn the cardboard into cars, planes, houses... the sky's the limit!
Take a trip... without leaving the house
Invite your kids on a scavenger hunt through the jungle (aka your backyard) or pop up a tent (or a simple fort with blankets) in your living room and pretend to camp out. With little more than the items you already have around the house, your kids can have an imaginary adventure!
Toys to spark their imaginations
Arm your kids with toys and dolls that encourage interaction and imaginative play — or ones that correlate with a television show from which they can glean initial story lines and character roles. But don't let your kids sit in front of the television all day — true imaginative play comes from within.
More on playtime for kids
Simply ways to find more playtime
Making playtime educational
Best social activities for you and your preschooler