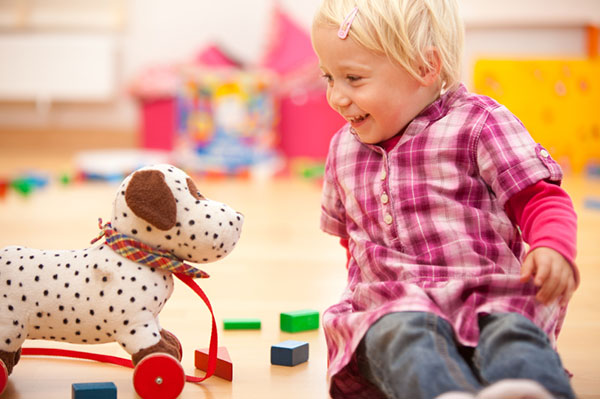 Both ways to play benefit your child
The power of play is no laughing matter — playing games or creating imaginary scenarios actually helps kids develop life skills that will carry them through to adulthood. Encourage your child to play regardless of whether by hand-powered or battery-operated toys.
Benefits of hand-powered toys
According to research by Parenting Science, non-battery operated toys give children the opportunity to develop problem-solving skills at a young age. Construction toys that involving building, such as blocks, are thought to help children develop skills like hand-eye coordination, spatial and motor skills, ways to think outside the box, social skills and language skills. The research showed evidence that complex block play, which involves children integrating their own construction into imaginary scenarios of play, is linked to advanced math skills in later life.
Building blocks, linking toys, wooden train sets and wooden puzzles may not have all the flash and sound of battery-powered toys, but they still very much have a place in your child's playroom and a benefit of their own.
Benefits of battery-powered toys
Battery-operated toys often have the buttons, knobs, lights and sounds that hand-powered toys lack — and they, too, have their benefits. In fact, battery-powered toys that play music can help your children become smarter. Studies show children exposed to music have higher academic achievement because music stimulates the areas of the brain related to reading, math and emotional development.
Educational battery-powered toys, such as ones that teach children songs, numbers, alphabet or words in another language, can benefit children by helping them develop their brains and broaden their horizons in fun ways that seem like simple play. When shopping for battery-operated toys, seek out ones that offer an educational benefit for your children as well as an opportunity for play, and ensure that the toy is appropriate for your child's age group.
Benefits of play
The bottom line is that all sorts of play are important, whether your kids are using hand-powered or battery-operated toys. Imaginative play, for example, helps children better understand the world around them, as they tend to mimic scenarios they have seen. This type of play also gives them an opportunity to practice proper social behavior.
Social play, even if children are playing side by side and not yet interacting, gives children an opportunity to integrate concepts like cooperation, sharing and negotiating a problem.
Physical activity is also an important factor in the world of play as it helps children develop hand-eye coordination, balance, and strength, as well as large motor skills like running and throwing.
More learning and play
Team sports: How kids benefit from organized athletics
Fun ways to keep kids learning this summer
Trains, planes and automobiles: Why preschoolers love transportation