Pregnant Celebrity
Photo Gallery
Happy Wednesday Hump Day — also known to us as Celebrity Baby Bump Day! We have rounded up the cutest pregnant celebrities, including Glee's Heather Morris, who showed off her baby bump while out shopping with her mom. Pregnant Jennifer Love Hewitt and her baby bump helped launch a new line of Mickey Mouse vintage tees. Fergie, Halle Berry and Jamie-Lynn Sigler round out our list of cute pregnant celebrities of the week.
(page 3 of 5)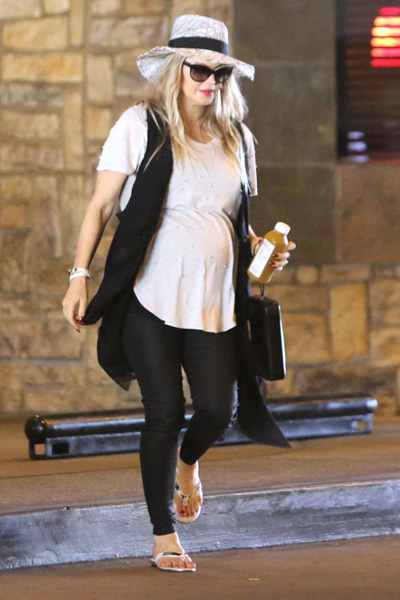 Fergie
Pregnant Fergie paired a long tee with black leggings and a hat as she was spotted at the Beverly Hills Center on July 14 with her mother.
The Black Eyed Peas singer is expecting her first child very soon with her husband, actor Josh Duhamel — who recently revealed the sex of the baby on Live with Kelly and Michael.
During the show, the Transformers star was asked to pick the pink or blue onesie — and he held up the blue onesie for the crowd!
No word yet on the baby name, however Fergie is already working on making one name legal — her own! The singer's real name is Stacy Ann Ferguson, however she has professionally been going by her stage name of Fergie. She is now working to legally change her name to Fergie Duhamel, as she wants to take the last name of her husband.
To legally make the change, she must print a notice in the local newspaper for four weeks, attend a hearing and it will be official!
Next up: Pregnant Halle Berry gets married
More From SheKnows Explorer