Pregnant Celebrity
Photo Gallery
Happy Wednesday Hump Day — also known to us as Celebrity Baby Bump Day! We have rounded up the cutest pregnant celebrities, including Glee's Heather Morris, who showed off her baby bump while out shopping with her mom. Pregnant Jennifer Love Hewitt and her baby bump helped launch a new line of Mickey Mouse vintage tees. Fergie, Halle Berry and Jamie-Lynn Sigler round out our list of cute pregnant celebrities of the week.
(page 2 of 5)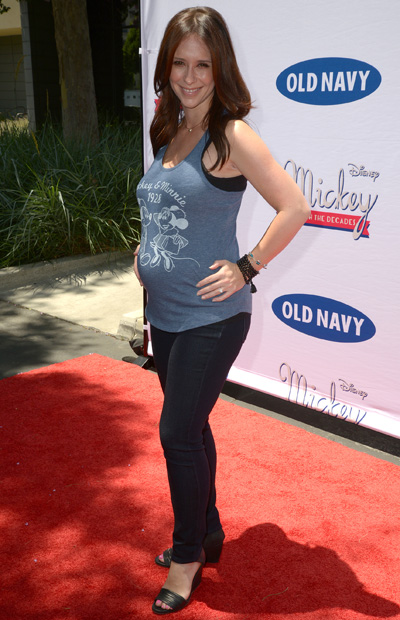 Jennifer Love Hewitt
Pregnant actress Jennifer Love Hewitt showed off her baby bump at the launch of "Mickey Through the Decades Collection" of vintage tees, at The Walt Disney Lot in California.
Hewitt, who is expecting her first child with her fiancé and The Client List co-star Brian Hallisay, is wearing the Mickey & Minnie tank from the new collection, which is available at Old Navy. She had fun at the event as she indulged her pregnancy cravings by eating pickles and a Mickey Ice Cream Bar at the event!
"Cupcakes seem to be a thing, but that's always been a thing," she told People magazine at the event. "I want to blame it on pregnancy, but it's really always been my favorite. Now, I have the ability to eat three instead of one, which is nice."
Brooke Burke was also at the event and was overhead giving Hewitt baby advice. Hewitt told Burke she was having fun staying and relaxing at home with her fiancé during her pregnancy.
One thing the pregnant actress is not doing during her pregnancy is tweeting, as she has decided to quit Twitter.
"Unfortunately with all the negativity people choose to send on Twitter as well as threats to their own well being I'm sad to say Twitter is no longer for me," she tweeted.
Next up: Pregnant Fergie is having a boy!