Pregnant Celebrity
Photo Gallery
Happy Wednesday Hump Day — also known to us as Celebrity Baby Bump Day! We have rounded up the cutest pregnant celebrities of the week, including Jennifer Love Hewitt, who shows off her baby bump in a striped top. A Jonas Brother baby is on the way, with the big announcement that Kevin Jonas' wife Danielle is pregnant with her first child. Pregnant Fergie, Rachael Leigh Cook and Red Widow's Jaime Ray Newman round out our list of cute pregnant celebrities of the week.
(page 3 of 5)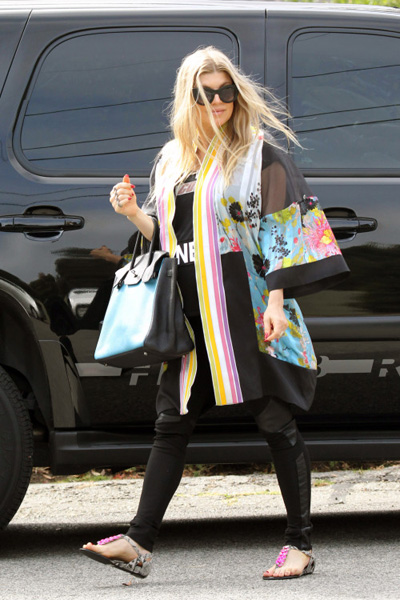 Fergie
Pregnant Fergie showed off her colorful maternity style in a printed jacket paired with black leggings and pink rhinestone sandals.
The Black Eyed Peas singer is expecting her first child with her husband, Josh Duhamel. The couple knows the sex of the baby — but are keeping it a secret. In the meantime, they are gearing up for childbirth.
"I will be there. She says that I can't be anywhere below right here," Josh told Chelsea Handler, pointing to his chest area. "You know, because some women get nervous about the actual birthing process... But for me, I think it's a beautiful thing."
Josh also revealed that he and his 38-year-old wife had been trying for a baby and are excited to become parents. "We've been trying for the last year or so," he said. "We've been trying for this for quite a while."
Next up: Pregnant Red Widow actress Jaime Ray Newman looks gorgeous at her baby shower!