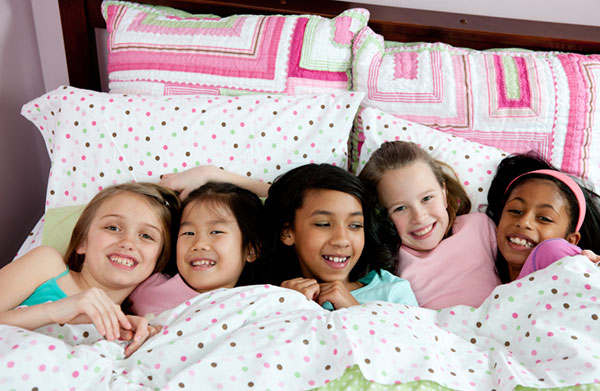 Tips for surviving your child's first sleepover
Summer is here, and with that means no school nights, which opens the door to sleepover season. If your child hasn't yet had a sleepover, it can be a little unnerving letting them go for the first time. Luckily, there are a few things you can do ahead of time to minimize your anxiety.
Make sure they are ready for their first night away from home. Emphasize that you're only a phone call away if they need you. Encourage them to go to their host's parents if there are any problems. Remind them to say "please" and "thank you" and to be a good guest.
The less time away from home, the less anxiety there might be for both you and your child. Arrange for the sleepover to start closer to dinner time, and set a morning pick-up time. For both your sake and the sake of the host parents, make sure you are on schedule for drop-off and pick-up.
If you haven't already established a relationship with the host parents, do so before the designated night. Have a trial run of sorts where the kids can get together and play and you can get to know the parents. The more comfortable and confident you are, the less anxiety you will feel leaving your child there for the night. Make sure they have your contact information in case they need you.
Give your child a back-up plan in case they can't reach you the first time. Maybe you have a family member they can call. Or have them call back in a set amount of time, for example, 10 minutes later. Make sure the you are available and you have the phone handy. Nothing worries a child more than not being able to reach their parents. Same thing goes if the host parents need to reach you quickly.
As parents, it can be difficult to get some time away from the kids. Embrace a sleepover as an opportunity to take some time for yourself. Have dinner with your spouse, read a book or take a bath. Do something you otherwise might not have time for when the kids are around. Taking time to relax can help reduce your stress and allow you some peace and quiet.
Sleepovers are a rite of passage for children. Make the first one one they will remember.
You might also like
Sleepover safety guidelines
Party on, kids: How to plan the perfect sleepover
Sleepover food preparation teaches kids life-long lessons