"You can't leave the house in that!"
As a mom who loves fashion herself, having two girls is the best — there are times when I wish I could have a wardrobe like theirs! However, as Janie and Meg get older, finding clothes that aren't pushing the boundaries of being too trashy or too mature is becoming harder and harder to do. And, the fact that they are oftentimes attracted to those borderline should-be-in-the-teen-department clothes, I've realized that teaching them to dress is less of a lesson in fashion and more of a lesson in parenting.
Bathing suits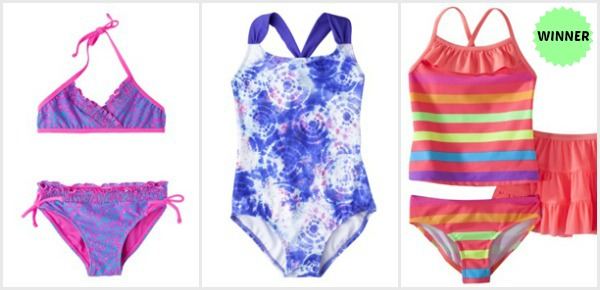 When it comes to bathing suits for young girls, things can go downhill quite quickly. While Meg prefers to stay on the modest side, Janie has been pushing to go for a bikini — eek! We looked at these three suits at our own Target this summer and compromised. She gravitated towards a teeny-weeny bikini that I thought left too little to the imagination. And Janie was less than pleased with my top choice of a sporty one-piece bathing suit. The compromise? A tankini that gave her the feel of a two-piece bathing suit, but with nearly the coverage of a more modest suit.
Graphic tees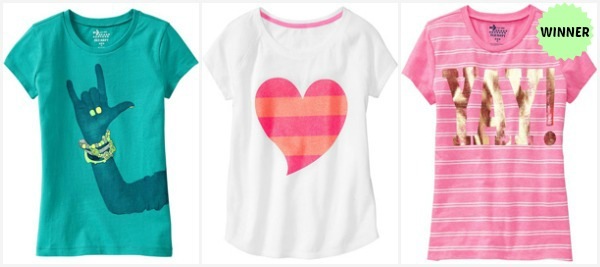 I wouldn't call myself a prude — until it comes to the clothes that the girls wear. With graphic tees being all the rage in the school-aged set, I find myself cringing as I shop. From sassy sayings to drawings that make Barbie look like a plus-sized gal, I have a hard time getting behind some of these popular shirts. For the most part, the girls don't choose graphic T–shirts that cross the line — often times because they don't really understand what the supposedly funny sayings mean in the first place. But once in a while, I have to draw the line on the dressing room floor.
Dresses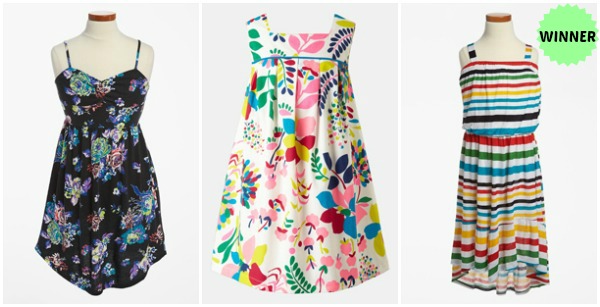 Too short. Too strappy. Too much like a cheerleader dress. Dresses can be tricky for little girls, especially warm-weather dresses that are meant to keep them cool in the heat. And yes, a strappy dress can easily be covered up with a cardigan or leggings added to a dress that's on the shorter side. But Janie and Meg usually strip those modest accessories the moment they get to school, putting us back at square one in finding dresses that are a success. As girls who will always choose a dress over pants or a skirt, I've learned that qualities such as a high-low hemline — which is popular right now — and a fun pattern can go a long way!
More on raising girls
Raising girls: Take a backseat to Daddy
Raising girls: Teaching them to be good sisters
Raising girls: Why we say no to playground kissing