(page 2 of 2)
Best GPS tracking apps for tweens and teens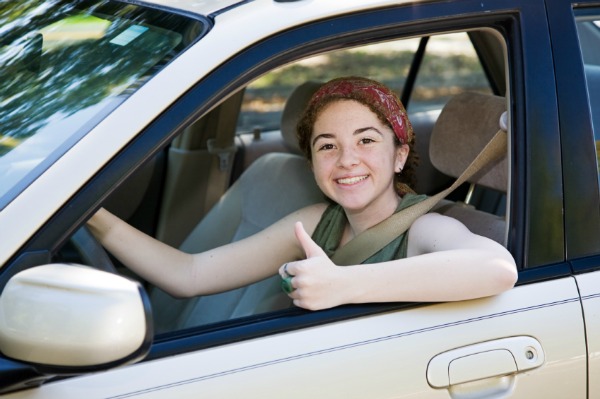 Once your child has his or her own cellphone, there are many great tracking apps that are free. Of course, this means they have to have their mobile phone with them, however, if they are like most teens, their phone is constantly with them.
"I actually don't use GPS for my kids. I use phone locators instead," TechMamas Founder Beth Blecherman tells SheKnows. Her favorites include Life 360 and the Find My Friends app.
"Location information is something parents should be teaching kids to never share on apps or updates that are public."
Blecherman also recommends carrier specific locators, such as AT&T Family Map, Sprint Family Locator and Verizon's Family Locator.
"Location information is something parents should be teaching kids to never share on apps or updates that are public," she warns, saying all location tracking on apps should be turned off, with the exception of the tracking apps the parents are using.
Another thing to consider is talking to your young adult about keeping the tracking settings in place. "Tweens and teens are pretty tech savvy and can easily turn off location for apps if they really don't want their parents to track them," Blecherman says.
Owings recommends keeping track of your teen with Google Latitude, which is a free app that you download both on your phone and your child's phone that allows you to pinpoint their location.
GPS devices that track your teen's driving and location
Once your teen starts (gulp!) driving, there are GPS devices that not only monitor their location, but also their driving habits. The eZoom (as we mentioned above) is equipped to detect driving habits, including over speed alerts and location.
Rich and Diane Pilat of North Royalton, Ohio, said they use IntelliDrive for their daughter, Jennifer, and it has given them peace of mind. "Our teen is aware that the device is in the vehicle and we believe it encourages good driving behaviors," they tell SheKnows. "The fact that the device essentially tracks the exact whereabouts of our vehicle at all times is also comforting."
In fact, they got a discount with their car insurance for using the device. "Our auto insurance carrier, Travelers, offered a discount for installing the device which also allows us to monitor our now 18-year-old teen daughter's driving habits: Speed, harsh braking and mileage. The data is accessible to us on the internet to view the specific trips with date/time and distances traveled."
The Pilats said they did have the conversation with their teen that the device was in the car and that it wasn't a distrust situation where 'big brother' was spying on her, but knowing her whereabouts at all times is comforting. "Nonetheless, if she wasn't trusted, she wouldn't be driving our car," the Pilats said.
In addition to IntelliDrive and eZoom, BrickHouse has a number of teen GPS tracking devices or you can use Google Latitude to monitor their location.
GPS tracking your kids: Overprotective or smart?
Should you use GPS tracking for your kids — or is it helicopter parenting at its extreme? "I don't think it's helicopter parenting to the extreme — unless you can't go five minutes without GPS tracking your child and you know he/she is at school or you're at the park together!" says pediatrician Dr. Melissa Arca of Confessions of a Dr. Mom. "But they can be useful when the family is out at big amusement parks like Disneyland, just in case your child gets separated from you."
"They can be useful when the family is out at big amusement parks like Disneyland, just in case your child gets separated from you."
She also says it is important to let your child or teen know you are using the device. "I like having a GPS tracking device in their phones. I think it's smart and a good safety back-up — but I wouldn't hide it from them."
Brad Robinson, who is an ex-CIA agent and now a partner in The Millennium Group, a full-service investigative and security consulting firm, says it is important to know your device's limitations. "Like much of the technology today, GPS tracking devices have improved greatly both in terms of smaller size and greater accuracy. They can be a useful tool for a parent who wants to keep track of their child. Unfortunately, most of the consumer grade units on the market are either not durable enough (kids can put a real beating on sensitive electronics) or have too little battery power to make them practical. If the device you are considering boasts a battery life of 24 hours, you can usually reduce that by half in the real world and even that means with a fresh, fully-charged battery, which will often not be the case," says Robinson.
"In short, as cool as this technology is, it seldom works as well as it does in the manufacturer's video and never as well as it does on CSI: Miami. Certainly these units can literally be a lifesaver in a child abduction scenario, but keep in mind that most of these situations will not be resolved in a day (again, battery life) and if a child is spirited across the border, most devices will not function outside the U.S.," he says, saying you would need a commercial grade device that is often more expensive and not as "cute" as some of these other devices.
Bottom line
GPS tracking devices are not a substitute for watching your kids, but they can certainly provide peace of mind.
More about child safety
Expert advice and ways to teach kids to avoid abductors
7 Things your kids shouldn't share online
5 Reasons why your kids should have cellphones