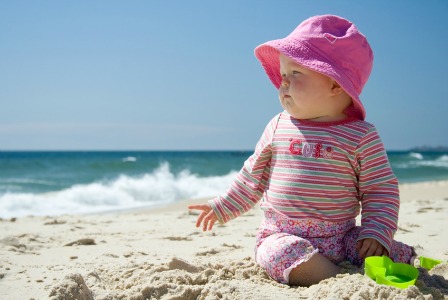 Are you expecting a baby? Do you love the beach, whether it be by an ocean, a lake or even a river? There is no reason these two themes can't go hand-in-hand as you search for the perfect baby name for your little surfer boy or girl.
Baby names that
belong on a beach
Ready to hit the sand and surf this summer? These baby names will get you thinking about the water and sun in no time!
Sources of inspiration
From our favorite surf rockers The Beach Boys to elements of the beachy locations themselves, there is no shortage of inspiration for beachy baby names when looking for the perfect moniker for your little one.
Beachy baby names for boys
Al: Al Jardine, member of The Beach Boys
Blondie: Blondie Chaplin, former member of The Beach Boys
Brian: Brian Wilson, member of The Beach Boys
Bruce: Bruce Johnston, member of The Beach Boys
Carl: Carl Wilson, former member of The Beach Boys
David: David Marks, member of The Beach Boys
Dennis: Dennis Wilson, former member of The Beach Boys
Dylan: This Welsh name means "son of the sea"
Estes: Might come from a Latin word meaning "tide"
Hurley: Meaning "sea tide," this name has Irish roots
Irving: An Old English name, this means "sea friend"
Beachy baby names for girls
Ceira: This is the name of a river in Portugal
Cordula: A Welsh name, this means "sea jewel"
Darya: This is a Persian word than means "the sea"
Dylana: This Welsh name means "born from waves"
Eleri: This is the name of a Welsh river
Halimeda: Meaning "the sea," this name has Greek roots
Irvette: This Old English name means "sea friend"
Kailani: A Hawaiian name, this means "sea and sky"
Leith: A Scottish name, this means "broad river"
Mairin: An Irish name, this means "star of the sea"
Marilla: This name means "shining sea"
Meriel: This pretty Gaelic name means "sea nymph"
Nerine: A Greek name, this also means "sea nymph"
Neva: This is the name of a river in Russia
Ondine: A Latin name, this means "little wave"
Shaila: Meaning "river," this name has Hindi roots
Ula: This Scandinavian name means "gem of the sea"
Vanora: Meaning "white wave," this name has Old Welsh origins
More awesome baby names
Surfer baby girl names
Surfer baby boy names
Hot baby names for boys and girls