Labor isn't always what you think it will be
Chances are you've heard these five myths about labor and birth, but we're here to debunk them. Get ready for the truth about labor!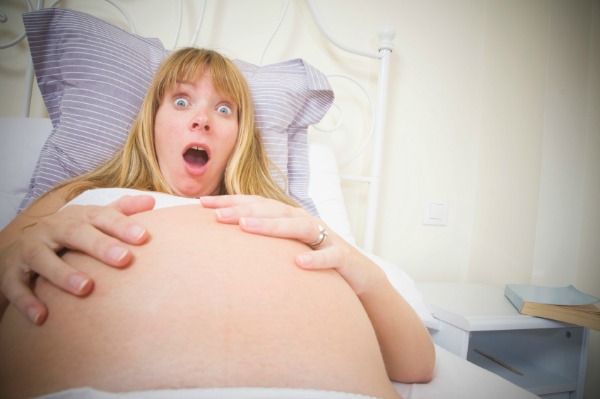 I've been teaching birth classes for years, and these are the most common myths I keep hearing parents share about giving birth:
1
You'll need to rush to the hospital at the first sign of labor
The very first contraction means all systems go, right? Not usually. The labor process can take hours or even longer. Birth is not usually an emergency (see myth #4) and barring any medical issues — be sure to check with your doctor or midwife — your labor will take as long (or as short) as it needs to before you welcome your baby into your arms. In one of my childbirth classes, I asked parents what they thought "lightening" was. It means the baby starts dropping into mom's pelvis, but I'll never forget one dad anxiously raising his hand to say, "I always thought it meant get to the hospital lightning fast!"
2
You'll scream throughout labor
You won't be screaming. Well, at least not the entire time.
Yes, you may greet your partner with a lovely, "You did this to me!" but (hopefully) not during the entire labor. The going can get tough, but in between contractions you will be OK. You may even laugh about who the evil queen is who took over for your sweet little self during the more challenging parts of labor.
3
If your water breaks, you'll need to rush to the hospital
Let's debunk this labor myth right now by asking your partner to read it.
When her water breaks, you don't need to freak out. I repeat, don't freak out.
You also don't need to freak out about water breaking at the grocery store, in a business meeting or at the movies. I'm not saying that never happens, but labor starts before waters break more often than not. If it does break at home — or somewhere else you wish it wouldn't — it may not break with a "Clean up in aisle three!" gush. Unless her doctor says she needs to come to the hospital right away if her water breaks, it's safe to wait until contractions are longer, stronger and closer together to warrant a trip to the hospital.
4
Birth is always an emergency
Yes, sometimes birth is scary and can literally be a life-or-death situation. However, labor is a normal, natural process for most women without complications. As long as everything is OK with you and your baby during labor, your body will take the time it needs until your baby is ready to be born.
5
Dad won't have a clue about what to do
Dads are clueless, will faint at the first sight of blood (or any of the other fun bodily fluids that make appearances during labor) and would like to get epidurals even if the moms don't. Sure, maybe your man fits this stereotype of dad who knows nothing, and will be no help during labor, but most guys will do OK. Give him a break and remember this is a process for him, too — and challenging in a different way than it will be for you.
More about labor and birth
Too busy for childbirth classes?
Tips on packing your labor bag
Birth center or hospital?