Pregnant Celebrity
Photo Roundup
Happy Wednesday Hump Day — also known to us as Celebrity Baby Bump Day! We have rounded up the cutest pregnant celebrities of the week, including Kim Zolciak, who is pregnant with her fifth child, showing off her bikini bod in a white bikini. Pregnant Kim Kardashian looked cute in a short flowing sundress, while pregnant Evan Rachel Wood showed off her "tomboy" maternity style. Pregnant Halle Berry and Busy Philipps round out our list of cute pregnant celebrities of the week.
(page 4 of 5)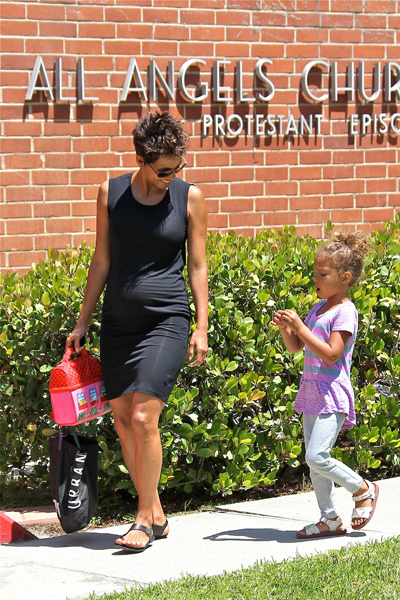 Halle Berry
Pregnant Halle Berry showed off her baby bump in a cute little black dress as she picked up her 5-year-old daughter Nahla from school in Beverly Hills.
The 46-year-old actress is five months pregnant with her first child with fiancé Olivier Martinez. Sources have said that the couple is expecting a baby boy, but she has yet to confirm the sex of the baby.
"This has been the biggest surprise of my life, to tell you the truth. Thought I was kind of past the point where this could be a reality for me. So it's been a big surprise and the most wonderful," she told CNN.
It sounds like the engaged couple are ready to expand their family. "Halle and Olivier are really excited," a source told E! Online. "It's a blessing. They can't wait to have a baby together."
Next up: Pregnant Busy Philipps is radiant in red