SheKnows Wins Rocky Mountain Emmy Award
For its exceptional work in video production, SheKnows TV was honored with an Emmy Award at the 34th Annual Rocky Mountain Awards Ceremony this month, and the SheKnows team couldn't be more excited and proud of our video team!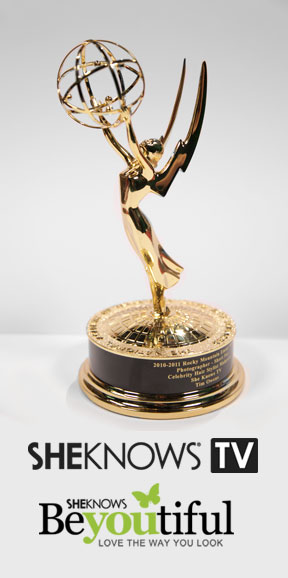 SheKnows wins an Emmy
For more than three decades, the Rocky Mountain Chapter of National Academy of Television Arts and Sciences (NATAS) has been dedicated to advancing the art and science of television and the promotion of creative leadership for artistic, educational and technical achievements within the television industry.
This month at the 34th Annual Rocky Mountain Awards Ceremony in Phoenix, Arizona, SheKnows TV was recognized for its excellence in its broadcasting through the prestigious Emmy Award.
"To have been acknowledged by NATAS and awarded this Emmy is truly an honor and a huge accomplishment for the SheKnows family," says Kyle Cox, General Manager of SheKnows.
SheKnows Be-You-Tiful
SheKnows TV took home an Emmy Award for Director of Photography Short Form for Be-You-Tiful, a show featuring simple hairstyle transformations and hair care tips. SheKnows Be-You-Tiful was sponsored by John Frieda and featured celebrity hair stylist Harry Josh, the International Creative Consultant for John Frieda.
"I'm excited and proud to accept this Emmy on behalf of the entire SheKnows team," says Owens. "The Video Department really works hard to produce high-quality content for our viewers, and this just shows our dedication to the brand and our clients. We are always trying to outdo ourselves and push the limits. You can expect to see more great things in the future."
"As a leader in the world of online video, SheKnows is dedicated to producing quality online broadcasting through the direction from our outstanding video team led by multi-Emmy Award-winning Tim Owens," says Cox.
Emmy Award-winning Director & Photographer

SheKnows TV's Director of Video Production, Tim Owens, also took home Emmy Awards in the following categories:
Special Event Coverage and Director - Live or Live to Tape.
Watch the Emmy Award-winning Be-You-tiful