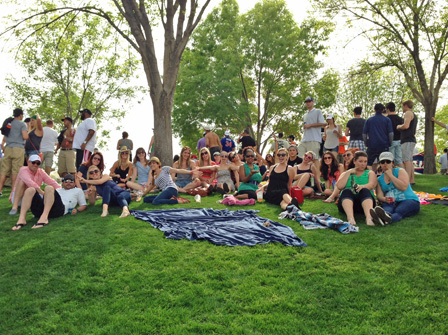 The SheKnows hub is nestled among the palms and majestic mountains of beautiful Scottsdale, Arizona where a team of highly talented and passionate individuals is dedicated to the success of the company and of each other.
Working at SheKnows
At SheKnows, we encourage the thoughts and ideas of our employees, no matter what their departments or areas of expertise. It's an inspiring atmosphere where team members are constantly going above and beyond, which makes it easy to take pride in our work and love what we do. Learn about what it's like to work at SheKnows, and find out what happens behind the scenes of this dynamic company.
Our secret to success
SheKnows has an open-door policy which makes it easy to bring creative, innovative ideas all the way to top management. Employees feel empowered and are trusted to do their job without micromanagement or overbearing influence -- hey, what can we say, we hire great talent!
From our internship program, SheKnows University, where motivated college students come to learn about our industry and gain valuable hands-on experience, to launching new initiatives and staying ahead of the technology curve, SheKnows is a place of continued education, and the team is committed to absorbing and passing along knowledge, each and every day.
We understand the importance of keeping employees feeling stimulated and motivated, so we foster a family environment here with an open, honest and supportive attitude toward all employees.
We also realize that perks are a huge plus and how special activities and privileges can go a long way in employee satisfaction. From delicious, (and not always low cal) unlimited snacks and birthday bagels to team building activities and off-site events like spring training games, scavenger hunts, golf tournaments and the SheKnows softball team, our SK family stays energized and challenged both in and out of the office.
Work hard, play hard
It's all hands on deck around here, and we all work hard at SheKnows to make sure we deliver the very best product we're capable of producing. Passion and pride go into what we do, and we're not afraid to celebrate that. The motto around here is work hard, play hard -- and that's just what we do. From after-work happy hours to our very own sports teams, the SheKnows team loves to keep the energy flowing, long after business hours.
Why we love working here
"The community of people that are brought together by such an amazing website is a driving force that gets me up and going in the morning. I look forward to hearing about my colleagues' weekends and sharing common interests.
-- Deanna M.
"I came from two Fortune 200 companies and they were so formal and strict it was oppressive. SheKnows has the 'work hard, play hard' mentality and when coupled with a relaxed atmosphere, it breeds a wonderfully productive, fun workplace."
-- Alan H.
"I love working at SheKnows because I can be self-directed while still interacting with teams made up of the best and brightest in their field."
-- Kristin B.
"I love working at SheKnows because it seems like the crazier my ideas get, the more likely they are to get produced."

-- Joanie S.
"There's no feeling like knowing that everyone in the room, in the building, in the company is working towards a common goal. It's that sense of 'team' that makes this place great. That, and the fact, that I can put my bare feet on desks".
-- Zach A.
"I love that everyone's strengths are recognized and are appreciated outside of their set department. There's always a chance you'll get pulled into a project for your input and it's great that everyone is valued that way."
-- Catherine C.
"It's Mad Men and The Devil Wears Prada, it's The Social Network and The Office – the culture, the creativity, the opportunities make SheKnows the ultimate place to work and love what you do."
-- Crystal P.
"The camaraderie is like nothing I've seen in any other work place. Working at SheKnows you're not only part of a team, you're truly part of a family. As hard as we work together, we also have fun together."
-- Sara V.
SheKnows' work environment
The office atmosphere is pleasantly atypical: No stuffiness, cubicles, fluorescent lights or gray walls around here! At SheKnows, we like to keep things open and upbeat, with lots of room to inspire powerful new ideas and innovative technology. It's a fun, open space where employees can feel comfortable being themselves. Oh, and our walls are multi-colored, thank you very much -- all the better to fuel the creativity that keeps the SheKnows spark crackling.
The SheKnows team is broken up into 10 departments:
Ad Operations
This team manages the day to day ad operations for both client and in-house campaigns to ensure an effective and successful delivery. They are also responsible for creative QA, client billing reports and inventory management.
Business Development
This team establishes relationships with outside companies and partners for advertising representation, content syndication, link building, technology and imaging licenses and more, including mergers and acquisitions, and corporate development.
Design
This team is a creative bunch, dreaming up and ultimately designing all the colorful, creative elements you see on SheKnows.com. From redesigns, to conceptualizing a brand new site from scratch, this team designs everything from ad banners to landing pages and everything in between.
Magazine Team
This team takes care of all the words, contests and reader loyalty programs on SheKnows. From editorial content and special features to the behind-the-page coding and verbiage only a search engine could love, they strive to provide readers with the most useful and relevant content on the web.
Marketing
This team is in charge of creating sales and marketing materials, brand campaigns and marketing strategies and is considered the gatekeeper of the SheKnows brand.
PR
The public relations team is our group of supportive cheerleaders, sharing the news about the company's latest and greatest achievements with the world as well as establishing new contacts who we can work with in the future.
Sales
The sales team brings home the bacon, taking the SheKnows name to some of the biggest companies in the world and coming up with creative ways to get their business.
Product Integration
This team acts as a liaison between our national sales teams and our other departments. They make sure that each and every sales campaign is executed on time and on target.
Video
This production crew handles everything from pre- to post-production and is in charge of all of SheKnows TV's custom programming. From set building to script writing to final editing, this in-house team does it all.
Web Development
This team keeps SheKnows running and is responsible for all the innovative backend design, development and coding. They are also in charge of new technology and innovations unique to SheKnows' sites.
Careers at SheKnows
Want to be a part of this thriving team?