Points & Prizes
Our Points & Prizes site is dedicated to bringing our readers desirable prizes that they can claim using points they earn by spending time on our sites -- good for them, good for us, and good for your company.
The weekly Points & Prizes Newsletter goes out to over 16 thousand subscribers, averaging nearly a million monthly page views and 100,000 monthly visitors. Our thousands of members hunt across the site and collect nearly 40,000 points each month, redeem those points for hundreds of free prizes each month, delivered right to their doorstep!
Bonus points are rewarded via Twitter, Facebook, Monthly Hunts, Points &Prizes Blog and so much more!

How It Works:
Earning prizes
Here's how our readers earn prizes -- and how we, in turn, build reader loyalty:
The reader creates a free account.
She then finds and claims Points & Prizes Keywords as she visits pages on our sites, thereby accumulating free points.
She then can redeem her points by shopping on our sites to "buy" items that are then delivered to the address she specifies.
Our readers appreciate the fact that the program involves no credit cards, gimmicks, strings or cost. It's easy and fun -- and helps boost both the number and length of site visits.
Points & Prizes keywords
Site visitors can find Points & Prizes Keywords in a variety of places on our websites. New keywords are added each day in highly visible spots, such as: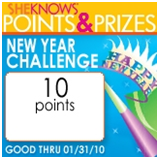 Points & Prizes Keyword boxes
To the left is an example of a Points & Prizes keyword box. Readers find these throughout our partner sites.
turning points into prizes (and reader loyalty)
Our prize box is a virtual store in which points are the currency. At the end of each item description is its "price" in points. Prices include shipping within the US (including AFO/FPO) and Canada, and items are sold on a first-come, first-served basis. View our current prizes.
Members can sign up or view points balances at any time.
Interested in providing prizes to be featured on Points & Prizes?
Contact us at pointsandprizes@sheknows.com.
Interested in Sponsoring a Points & Prizes Hunt?
Points & Prizes readers look forward to our monthly hunts, in which they find words and claim points; in the process, they surf around all our partner sites and check out content across the SheKnows network. Below are a few facts about sponsoring a Points & Prizes monthly hunt:

A hunt consists of 130 Points & Prizes keywords valued at 10, 20, 30, 50, 100 and 200 points.
Hunts last for one full month (no more, no less).
Every monthly hunt yields three winners.
The first-place winner receives 50,000 additional points.
The second-place winner receives 25,000 additional points.
The third-place winner receives 10,000 points.
In the event of a tie, the winner is the participant who earned highest number of points first.
You may sponsor additional prizing incentives (e.g., first-place winner also wins a $# gift card).
All hunts have a designated landing page on the Points & Prizes contest section.
Points & Prizes Blog
The Points & Prizes blog is updated daily to tell our readers about new prizes, contests, giveaways, coupons and freebies.
If you would like to offer a coupon, we need:
Link to where readers can redeem your coupon
A description of the coupon's offering (e.g., "15% off ABC Shoe Store")
Expiration date
Image (preferably, your logo) for blog posting
The actual discount code or image of the coupon.