(page 2 of 2)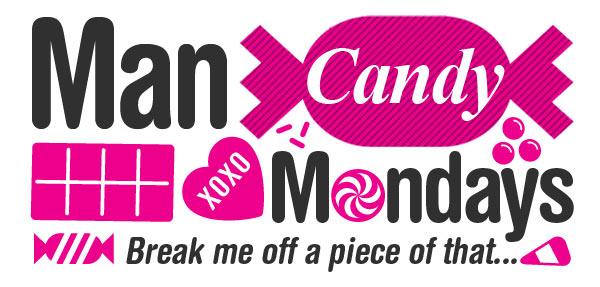 And the inductees are...
It was a grueling job sifting through all our Man Candy fineness to bring you our top picks, but darn it, someone had to do it! Hours and hours of drooling over gorgeous, talented, smart men. But in the end, it was about you, the reader. So we sacrificed and toiled to bring you this collection of raw masculinity. You're welcome.

George Clooney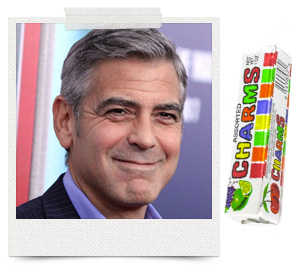 Candy name: Charms
Why: George is a lady's man and has never had a problem securing the attention of much younger (and typically taller) girls.
Favorite physical attribute: Dashing smile with a side of sexy salt and pepper hair.
Why we're diggin' on him: What Man Candy list would be complete without the evergreen staple, George Clooney? He's dapper, handsome, successful, has cool vacation homes and cooler friends and has a wicked sense of humor, as is evidenced by his long history of pranks (usually played on bestie Brad Pitt).
Where we'd go on a date with him: A yacht date somehow seems like an appropriate place to hang with Mr. Clooney. Picture both parties draped in white linen, eating white grapes, sipping white wine, while gentlemen in white tuxes play step and fetch all day to satisfy your every desire (except those desires reserved for George). OK, so maybe we have given this a little too much thought.
Relationship status: George-y boy recently broke up with Stacy Keibler, who he'd been dating since 2011. Could this be our chance?!
Bradley Cooper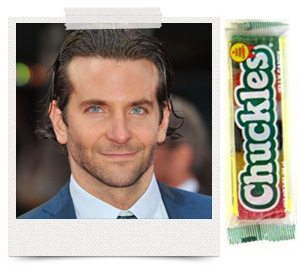 Candy name: Chuckles
Why? Because Bradley is funny Man Candy.
Favorite physical attribute: Tie between his chiseled jaw and mesmerizing blue eyes.
Movie quote we'd ask him to say for us: We pretty much love everything that comes out of Bradley Cooper's mouth, but we've recycled this The Hangover quote many times: "Would you please put some pants on? I feel weird having to ask you twice."
Why he made the Man Candy list: Obvious reasons aside, Bradley Cooper single-handedly made being bipolar attractive in Silver Linings Playbook. So compelling was his portrayal, Cooper was nominated for and won several awards for his performance.
What we'd want to spend the day doing with him: Uh, without getting too explicit, activities that include sheets, dim lighting and minimal clothing.
Relationship status: Us Magazine reports that 38-year-old Bradley has been seen out and about a couple of times with 20-year-old Suki Waterhouse. Cooper broke up with Zoe Saldana a few months ago, so what can we learn from this, girls? If you have an unusual name and you're smokin' hot, you may have a shot with Chuckles.
Henry Cavill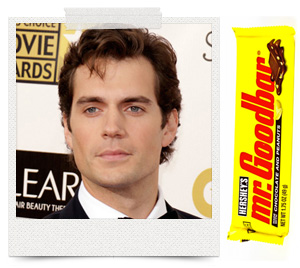 Candy name: Mr. Goodbar
Why: Because Man of Steel's Henry Cavill is a super man!
Favorite physical attribute: His face and body look as if they were carved from marble by Michelangelo, so yeah, all of it. Statue of David? No. Statue of Henry.
Trivia: Believe it or not, Henry lost out on roles in Twilight, Casino Royale and Superman Returns. Someone finally wised up and cast him in the blockbuster Man of Steel. We hope this means we'll be seeing a lot more of Henry. And we do mean a lot.
Where we'd ask him to take us on a date: We'd ask him to strap on his cape and fly us somewhere of course!
Relationship status: Very recent rumors have been swirling that Henry is dating the lovely Kaley Cuoco. Juicy! We're not cuckoo that Henry is dating Cuoco, but every Superman needs a Lois Lane.
Josh Duhamel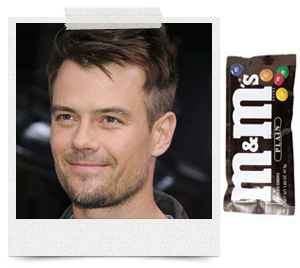 Candy name: M&M's
Why: Because M&M's are finger-lickin' good, which somehow makes us think of Josh.
Favorite physical attribute: His height (he's almost 6' 4") and his lawnmower hair that looks like we just combed our fingers through it (sorry Fergie).
Trivia: Josh worked in construction before he was discovered, so ladies, let that serve as a lesson to not immediately be repulsed by construction workers who whistle at you. They might be the next Josh Duhamel!
Movie we'd most want to be his co-star in: Win a Date with Tad Hamilton! and/or Safe Haven.
Relationship status: Josh asked former Black Eyed Peas front-gal Fergie to marry him in 2009, and now the Mrs. is expecting their first sweet pea any day now.
Justin Timberlake
Candy name: Almond Joy
Why: Because in addition to being sexy as hell, Justin's a funny nut.
Favorite physical attribute: Abs. The end.
Trivia: His momma's initials are tattooed on his back with the word "guardian." Don't be so quick to dismiss those momma's boys, ladies.
Appearance we'd most love to make with Justin: We'd love to co-star with him on Saturday Night Live — especially if he remade "D*** in a Box." His SNL appearances are the stuff legends are made of.
Relationship status: If you don't know who Justin Timberlake is with, we'd first like to say, "Hello. Welcome to Earth, space creature." Then we'd tell you what everyone else knows. He's married to the impossible-to-cut-up Jessica Biel.
Ryan Reynolds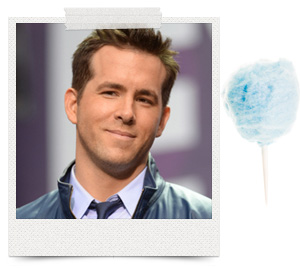 Candy name: Cotton Candy
Why: Because he's sticky sweet, from his h-h-h-head to his feet (sorry, the Def Leppard in us made us do that).
Favorite physical attribute: Ryan has that rare physique that reminds us of what our hot high school English teacher (who we lusted after) may have looked like right out of the shower.
Trivia: Speaking of high school, Ryan failed his high school drama class. How is that possible? Maybe he just didn't show up for it.
Date we'd most like to go on with him: The beach — definitely the beach. We can see lots of Frisbee, fried chicken and red wine on this date. And minimal clothing, of course.
Relationship status: Even though Ryan told Details magazine that he had "no interest in dating" after his two-year marriage to Scarlett Johansson ended, he married Blake Lively a year after his divorce was final. So while he had no interest in dating, apparently he didn't feel the same way about marriage.
Ryan Gosling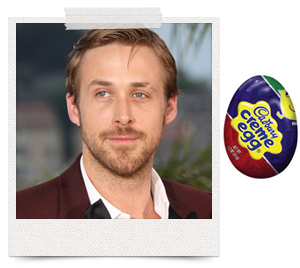 Candy name: Cadbury Egg
Why: Because Cadbury eggs are sinfully, make-your-eyes-water sweet.
Favorite physical attribute: It's hard to pick, but his pecs are "pec"tacular.
Trivia: The Gos gives his dog a full-body mohawk! He told People magazine, "He insists on it. Ten years ago, I shaved a mohawk just for the summer. And then, every time it started to grow out, he turned into a total jerk. And then, I'd shave it back and he'd turn into a nice guy again."
What we'd most like to do with him: Uh, make out in the rain a la The Notebook. That's Day One stuff.
Relationship status: He's dating Eva Mendes. Ugh. Guess we'll just have to wait this one out, ladies, because Eva's pretty stiff competition.
The Hemsworth Brothers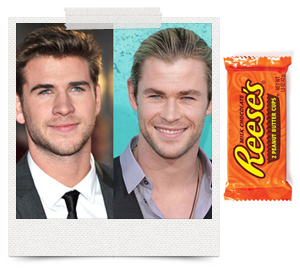 Candy name: Reese's Peanut Butter Cups
Why: Because gorgeous brothers Liam and Chris Hemsworth are irresistible, and go together like chocolate and peanut butter.
Relationship status: These strapping young lads from Australia both have bodies that would make the boys of Thunder from Down Under bow their heads in shame.
Trivia: Both of the Hemsworth bros auditioned for the role of Thor, but as we all know, Chris was the one chosen to play Thor.
Place we'd insist they take us on a date: Back to their homeland of Australia. There we would take them to the outback, konk them on the head, give them some amnesia-inducing drugs and take it from there. (We're kidding of course! Kind of.)
Relationship statuses: Chris is married to Spanish model Elsa Pataky and they have an adorable daughter, India. (Insert eye roll here. Oh, that came out wrong. Good for them!) Liam is engaged to the headline-making-for-all-the-wrong-reasons Miley Cyrus.
Photo credits: WENN.com, Daniel Tanner/WENN.com, WENN.com, HRC/WENN.com, WENN.com, WENN.com, FayesVision/WENN.com, Ivan Nikolov/WENN.com, Andres Otero/WENN.com, Daniel Deme/WENN.com, Dominic Chan/WENN.com, Joe Alvarez/WENN.com, WENN.com, Ian Wilson/WENN.com, WENN.com, WENN.com