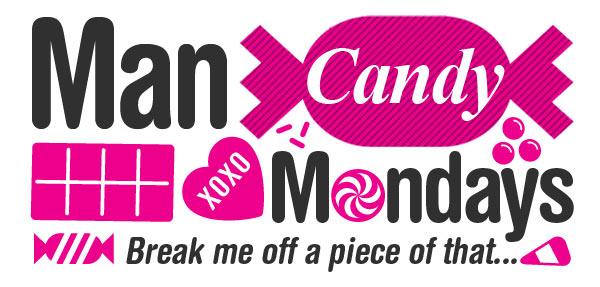 And the inductees are...
It was a grueling job sifting through all our Man Candy fineness to bring you our top picks, but darn it, someone had to do it! Hours and hours of drooling over gorgeous, talented, smart men. But in the end, it was about you, the reader. So we sacrificed and toiled to bring you this collection of raw masculinity. You're welcome.

Tyrese Gibson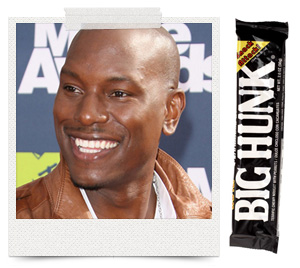 Candy name: Big Hunk
Why? Der
Favorite physical attribute: Smile (we run at PG-13 — we have to say that).
Something that surprises us about him: He wrote a book! Is it possible to look that amazing and be a literary genius?
What we'd want to do on a date with him: Have him sing to us! Tyrese showcased his pipes in a 1994 Coca-Cola commercial then went on to put out five records and be nominated for two Grammy Awards!
Relationship status: Free as a songbird.
Charlie Hunnam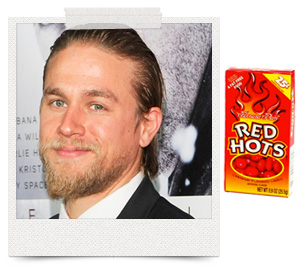 Candy name: Red Hots
Why? Because his character Jackson "Jax" Teller on Sons of Anarchy is Red Hot, which makes us red hot.
Favorite physical attribute: Facial scruff (is there anything better than mindlessly playing with that?).
Trivia: He won a coveted spot on SheKnows' 10 Celebs we would totally tongue-kiss on New Year's Eve list.
What we'd want to do with him on a date: Have him take us on a bike ride, and from there whatever the hell he wants to do!
Relationship status: Charlie is dating jewelry designer Katharine Towne, which does little to keep our temperature down when we see this red hottie.
Channing Tatum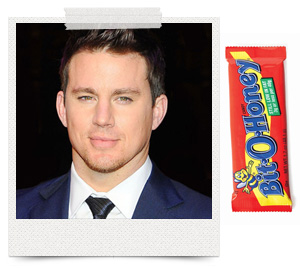 Candy name: Bit-o-Honey
Why? Honey is both sweet, and in some instances, sexy. When Channing followed up his Magic Mike performance (sexy) with being People magazine's Sexiest Man Alive, he mentioned wife Jenna Dewan-Tatum at least 12 times (sweet — sigh).
Favorite physical attribute: Do we have to pick one? It would be easier to think of our least favorite Channing physical attribute. Nope, we can't do that either. We pretty much love it all.
Trivia: Channing actually was a stripper!
Stripper scene we most want Channing to do for us: Um, any of them! But our favorites are a tie between the cop stripper scene and "Raining Men."
Relationship status: Channing has been married to the adorable Jenna Dewan for four years. The couple welcomed baby daughter Everly on May 31, 2013.
Jason Segel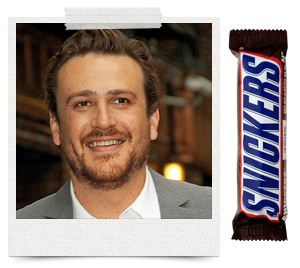 Candy name: Snickers
Why? Because Jason cracks our stuff up.
Favorite physical attribute: Height (he's 6' 4") and his funny bone.
Place we'd want to spend the day with him: At an amusement park or the mall — somewhere there is intense people watching because we know he'd make us laugh until our stomach hurts.
Fun fact: He's an ordained minister.
Relationship status: He recently broke up with Michelle Williams, so the door just swung wide open ladies!
Johnny Depp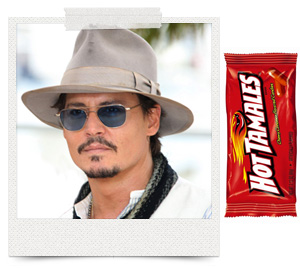 Candy name: Hot Tamales
Why? Because even though Depp goes out of his way to camouflage his good looks behind goofy characters or his hipster/musician look, he's still a hot tamale.
Favorite physical attribute: His bedroom eyes. He has that smoldering look that invites you to drop the chit-chat and get between the sheets.
Movie line we would want him to say to us (from Don Juan DeMarco): "Have you never met a woman who inspires you to love? Until your every sense is filled with her? You inhale her. You taste her. You see your unborn children in her eyes and know that your heart has at last found a home. Your life begins with her, and without her it must surely end." That's baby-makin' talk right there.
Relationship status: It's old news that Depp broke up with his partner of 14 years and the mother of his children, Vanessa Paradis, a year ago. The 49-year-old Depp moved onto his 27-year-old bisexual Rum Diary co-star Amber Heard. The two split but were recently photographed at a Rolling Stones concert holding hands. Might this be a Man Candy midlife crisis?
Dan Stevens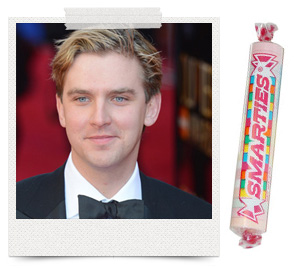 Candy name: Smarties
Why? In addition to being easy on the eyes, Dan has an English lit degree from Cambridge.
Favorite physical attribute: His hair. A gal could fritter away hours running her fingers through it.
What we'd want to do on a date with him: Dress in costumes from the Downton Abbey set and spend the day strolling through a meadow, eating cheese, drinking wine, reading books and see where that leads…
When we get to see him next: Fans everywhere mourned the death of Stevens' Downton Abbey character Matthew Crawley, but fear not, fair maidens! Ready for some good news/bad news? The good news is that Stevens is starring in Summer in February this summer. The bad news is it currently does not have a release schedule for the U.S. We have to either pray to the movie distribution gods that they will take mercy on us and release this film in the U.S. or wait for it to come out on DVD.
Relationship status: Dan is married to jazz singer Susie Hariet, and they have two children — Willow and Aubrey.
Ian Somerhalder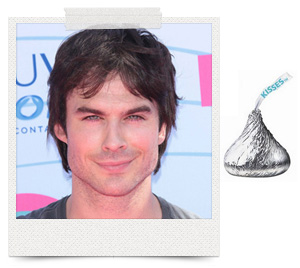 Candy name: Hershey's Kisses
Why? He's smooth, velvety goodness and it wouldn't hurt our feelings to spend the day making out with him.
Favorite physical attribute: Piercing gaze.
What we'd do with him on a date: Play vampire truth or dare with our favorite blood-thirsty Vampire Diaries actor.
Why he made our list: If our selection of Ian isn't painfully obvious on looks alone, he also makes our list for his ability to choose vastly popular roles (fingers crossed he's chosen to play Christian in Fifty Shades of Grey) and for starting the Ian Somerhalder Foundation which encompasses worthy causes like the environment and animal rights.
Relationship status: For a few years, Ian only had eyes (and teeth) for his leading lady, Vampire Diaries co-star Nina Dobrev. They recently broke up, so Ian's all free!
Matt Bomer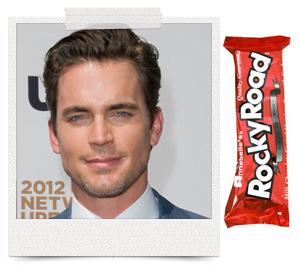 Candy name: Rocky Road
Why: This piece of Man Candy plays for the other team and a Rocky Road is what you're in for when you lust after a guy you can never have!
Favorite physical attribute: That delightful spot between the top of his head and the tip of his toes.
Why he makes us swoon: Two words. Magic Mike. Two more words. Hospital stretcher.
What we'd want to do on a date with him: Get pedicures, go on a wine tasting tour and, of course, end the day with a tickle fight.
Relationship status: Alas! Not only is Matt not interested in a gal pal, he's also in a very committed relationship with publicist Simon Halls. Well, if there is one thing you can't take away from a girl, it's her dreams.
Up next: More members of the Man Candy Hall of Fame >>