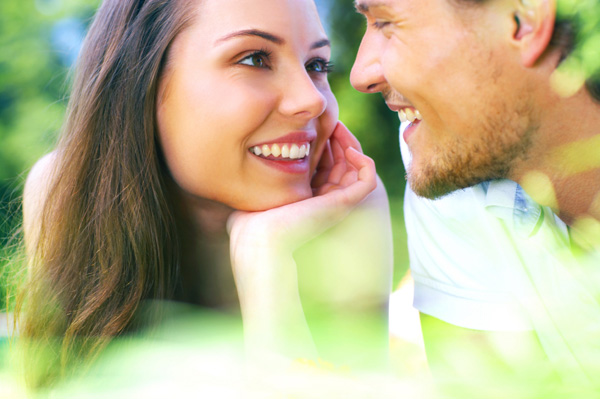 Let's get physical
Taurus is famously sensual and this week's solar eclipse in the zodiac sign of the Bull will bring out all of your cozy and slightly lascivious tendencies. You'll want to run your fingers through his hair, drink in the musk scent of his clothes and squeeze his buttocks like they were ripe melons. In other words, you won't be able to keep your hands off him. Hopefully your boyfriend is into this kind of thing. Otherwise he might start to feel objectified and like you don't really respect him for who he is.

ARIES (March 20-April 18)
Guys adore you and you know it. You don't play mind games — you tell it like it is, and you play a mean game of pool. You're low maintenance and easy to hang out with. However, women are less likely to sing your praises — especially when they sense you snooping around the henhouse. Be careful that you don't become the target for their animosity on Thursday when Venus enters Gemini. It's a dicey time and you'd be smart to avoid ruffling anyone's feathers.

TAURUS (April 19-May 19)
You've kept your hands to yourself but that will all change this week. The solar eclipse in Taurus is bound to make you bold, brash and daring. It's great if you're single because you'll be wrestling that guy down to the ground and hog-tying him in record time. It's not so great if you're already spoken for because the date you show up with at the beginning of the evening on the 11th may not be who you end up going home with. Start rehearsing those excuses now.
---

GEMINI (May 20-June 19)
You said you were over him, but are you? That's the question that will be uppermost in mind on May 9 when Venus reintroduces an ex back into your life. Loved ones and friends will try to discourage you from seeing him again, but a lot has changed since you last saw each other and you've both grown in your own separate ways. Whether that is enough to bring you back together remains to be seen which is why it's worth a look-see.

CANCER (June 20-July 21)
Expect to be on call 24/7 this week as everyone you know will be undergoing some kind of dramatic life change or upset. This is thanks to the solar eclipse on Thursday. One of the people who will be turning to you for support is someone of great influence. It could be a boss or client. Be there for this person but also make sure that things don't cross the line and get too personal. It's up to you to maintain an even keel while people are off-balanced.
---

LEO (July 22-Aug. 21)
With the Sun, Moon, Mars and Mercury all forming hot conjunctions to each other this week, you'll be finding new ways to get physical. It will be almost impossible to keep your hands off each other. Just remember that there are laws against doing these sorts of things in public, so get a room. Even if you're married with children, you should still get a room. You don't want anyone walking in on the middle of you playing tickle me Elmo.

VIRGO (Aug. 22-Sept. 21)
There's a link between sex and food. Satisfy your carnal desires and you'll burn calories like nobody's business. You're having too much fun between the sheets to think about what's for lunch. However, the reverse can also be true. Put sex on hold — or treat it like a chore or an afterthought — and you can watch the waistline expand. Now you can put yourself on a diet or you can schedule some extra time in the day for him. The decision is up to you.
---

LIBRA (Sept. 22-Oct. 21)
It looks like a partner or spouse will finally get a break this week and that's good news for you. Truth to tell it's been exhausting having to prop up his drooping spirits while sitting through endless rounds of analysis followed by analysis of his analysis. Thankfully this will all be behind you as he prepares to begin a new job or enterprise soon. This revival of self-confidence will boost his performance in the bedroom — which couldn't come soon enough as far as you're concerned.

SCORPIO (Oct. 22-Nov. 20)
You can expect a big shake up. Solar eclipses always bring dramatic life changes and the one on Thursday will cast its shadow across that angle of your solar horoscope that rules romantic partnerships. Either someone will come into your life at this time or someone will leave. The eclipse can also blow the lid off of any secrets you've been keeping — like with what happened to fellow Scorpio General Petraeus last November. In any case, you will want to practice a little extra homeland security.
---

SAGITTARIUS (Nov. 21-Dec. 20)
It's never a good idea to mix work with pleasure, so you would be wise to stop, look and listen on Thursday. Even if what you're doing is a harmless flirtation, your entre-nous to-dos have succeeded in capturing the attention of co-workers and supervisors who will happily fill in any blanks left to the imagination. What's happening now is uncannily similar to what transpired a year ago. Things didn't turn out so well then, so why would it be any different this time? Reverse engines while you can.

CAPRICORN (Dec. 21-Jan. 18)
Usually you look, but don't touch — but not this week. This week you'll practically be body tackling every hottie you see. So what's gotten into you? Maybe it's years of repression that have made you snap or maybe it's just the solar eclipse on Thursday bringing out your "baser" instincts. In any case, there's no harm in letting yourself satisfy your craving for man candy. But keep in mind one thing on May 5: What you see as fun and pleasure may wind up being more serious business for him.
---

AQUARIUS (Jan. 19-Feb. 17)
You like a guy who brings home the bacon. Often portrayed as being free and easy and experimental in love, Aquarians are actually closet materialists. Your dirty secret isn't that you're into three ways. Your dirty secret is that you're into 3,000-count cotton sheets. It's time to update your profile. Stop dating anti-establishmentarian types who never have any money and try on one of those stuffed shirt types you keep putting off. You may find that he makes for an extremely comfortable fit.

PISCES (Feb. 18-March 19)
You and a potential paramour have been circling around the question of who's going to make the first move. You want him to, but he still isn't sure about what you want. He's picking up on that deep-seated ambivalence that people born under Pisces often have toward relationships. It comes from the fear that if you actually get to know each other, then you will spoil that special magic that you have. It's time to move forward or you'll always wonder about what might have been.
More horoscopes
Your weekly horoscope
Your career weekly horoscope
Your annual love horoscope for 2013