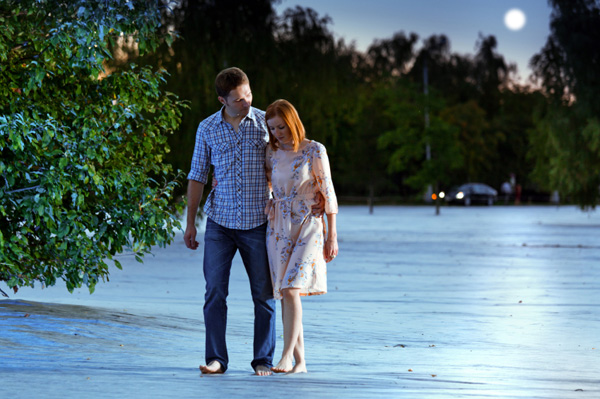 New Moon Rising
The New Moon is when the Moon passes in front of the Sun and blocks its light. It is the only night of the month when we cannot see her in the heavens. The New Moon was a time of fresh beginnings and hopeful endeavors. It marked the beginning of a new month in the lunar calendar. However, the New Moon on Wednesday will also be conjoining Venus and Mars, so you will want to make sure that your passions aren't blinding you to what lies beyond the moment. A New Moon in Aries doesn't always finish what it starts.

ARIES (March 20-April 18)
Don't try to break up this week because every time you do, you'll only find yourself back in his arms again. It can't be helped when there is so much Mars energy coursing through your horoscope. Mars energy is passionate and passion has this strange can't-live-with-him-and-can't-live-without him push and pull. You will feel like a slave to love until the 19th when a change in planetary disposition shows the fever breaking. This is when you will finally be able to think straight.

TAURUS (April 19-May 19)
Don't do anything you'll regret on Wednesday. This is when the New Moon in Aries could push you to leap without looking. New Moons symbolize emotional blind spots in Astrology. It's the only time of the month when the Moon is "dark" because it's passing in front of the Sun and therefore not reflecting its light. Needless to say you aren't very reflective right now, so make yourself wait until the weekend before making any big decisions. You'll be glad you did.
---

GEMINI (May 20-June 19)
Now that you're looking good and feeling great, it makes perfect sense to ask yourself if you can do better. You'll be looking around at the familiar fixtures in your life on Wednesday, making a mental list of what to keep and what to pitch. This could also include your boyfriend. Hopefully, he's up to speed. If not? Well, then he's got no one but himself to blame. You're too fabulous to settle for second best when you can have top of the line.

CANCER (June 20-July 21)
You thought that you and a loved one were on the same page, but Pluto turning retrograde on the 12th shows that you are not. It looks like your other half hasn't exactly been on the up and up and now he wants to come clean about what's amiss. Don't anticipate the worst — listen with an open mind and heart, and you will emerge from the bumpy passage no worse for wear. In fact, this could bring you even closer.
---

LEO (July 22-Aug. 21)
Before you decide to leave your job, move overseas or switch religions for the love of your life, you might want to touch base with friends. They probably won't say what you want to hear, but they'll tell you what you need to hear. The New Moon in Aries will bring things to a fever pitch (which can be exhilarating), but it's certainly not the time to be making any important decisions regarding your future. You will want to wait until April 19 to do that.

VIRGO (Aug. 22-Sept. 21)
You don't have a problem with passion. You just don't like what it does to the rest of your life. Contrary to popular opinion, you were born under one of the few zodiac signs most likely to sacrifice everything for love. Scorpio is like this too. This is why you work so hard to keep your feelings under wraps. This could prove to be an impossible task on Wednesday. Let yourself enjoy a little bodice ripping. You can always replace it later.
---

LIBRA (Sept. 22-Oct. 21)
It's never a good idea to make someone stay when they want to go. This applies to lovers and spouses as well as to best friends and kids (as long as they're over 18). You don't want to be the one standing between them and the greener pastures that they yearn for because that's a contest you can't hope to win. Let this person go and find out for himself what life without you is like. The experience could say everything that you could never say yourself.

SCORPIO (Oct. 22-Nov. 20)
Nude is not the same as naked. If anything, everyone is in a hurry to undress these days just so that they can show off their tight gym bodies. Naked, however, implies vulnerability — specifically emotional vulnerability — which is something a loved one needs to see right now. It's great to have buns of steel that you can bounce a quarter off of, but what people crave is tenderness. Show him your weak spot on Wednesday when the New Moon occults in Aries and he'll show you his.
---

SAGITTARIUS (Nov. 21-Dec. 20)
Show him your world. You've spent enough time in his — hanging with his friends, watching his favorite TV shows and going to the game. This week would be the perfect time to share with him some of the things you enjoy doing. Not only is he game with playful Mercury entering the solar house of fun and pleasures, but he could sure use a mani/pedi. His toenails are starting to look like bear claws and you've got the scratches on your ankles to prove it.

CAPRICORN (Dec. 21-Jan. 18)
Upsets in your partner or spouse's family will draw focus this week. Trouble has been brewing for a while and it all comes to a head on the 10th. This could pertain to a father- in-law, stepchild or your partner's brother. Whether you're rolling out the cot for the night or talking someone down off the ledge, it's important to provide the safe haven, support and sounding board that you would want to be shown if circumstances were reversed.
---

AQUARIUS (Jan. 19-Feb. 17)
You know that people play games. And you have no problem with that because you know that it can't be helped. However, you wish that the person you were seeing was better at it because you're losing respect for him on an almost daily basis. Since it doesn't look like it will improve any time soon, you might suggest that he knock off the bulls*** all together on Wednesday and just be real. Honesty is a lot easier and healthier anyway.

PISCES (Feb. 18-March 19)
Money's a funny thing. It's awkward to talk about and it's even replaced sex as the taboo topic. It's easier to talk about G-spots than it is to discuss credit card debt. Yet money problems can drive a wedge between couples faster than a bad performance in bed can. It's time to open up and share your anxieties. It won't be easy, but Mercury in Aries this weekend will get both of you talking figures instead of venting feelings. You'll be relieved to know that he's on your side.
More horoscopes
Your weekly horoscope
Your weekly career horoscope
Your annual love horoscope for 2013