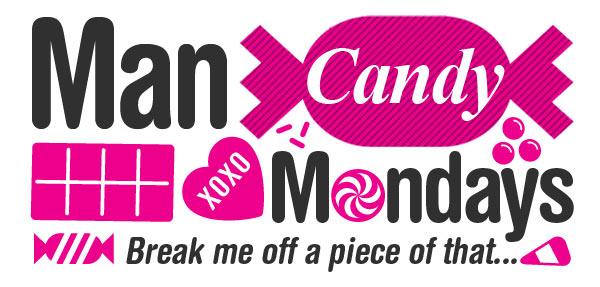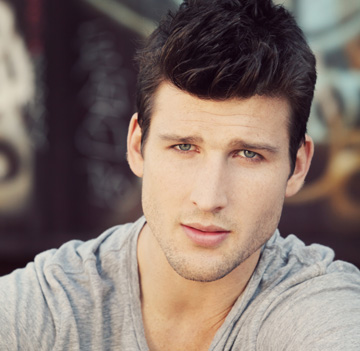 If you ever need inspiration to go about your day, may we point you to a GIF of Suburgatory's Parker Young washing a red car shirtless, with a wet sponge, occasionally rubbing said sponge in a circular motion with his perfect butt? Don't worry, we'll wait while you go check it out... In fact, he also played a hot-to-trot jock on Mad Men last season — evidence that his attractiveness transcends genre. Read the juiciest parts of our interview with him below!
Meet Suburgatory's resident hottie
Why we love him
Sexy, sweet and highly self-aware, Parker Young is the big man on campus on TV, but he's also the class clown, which makes him even more handsome to us. Parker recently spent a little time on the phone with us to give us the scoop on playing Ryan Shay, what it's like to be a Hollywood hunk and how John Slattery of Mad Men inspired him to reach new career goals.
Parker Young
Born: Aug. 16, 1988
Hometown: Tucson, Arizona
Height: 5' 11"
We've gotta say: If there's a woman out there who doesn't wish Parker were her real-life boyfriend, that'll change after reading this interview!
SK: We recently read some exciting news about your role in a new FOX pilot, a comedy about the army called Enlisted. Congratulations! What can you tell us so far about the show?
Parker Young: My whole life, for Halloween, I've been a ninja or army man, so to shoot a pilot as a military man is so exciting. Basically it's centered around three brothers in the military, and I play the youngest of three brothers, and we are stationed at a base in Florida. We're kind of a troop of misfits not yet ready to be shipped out, so it revolves around our life as a platoon. The oldest brother Jeff Stoltz, who's just freakin' awesome, he's just such a cool guy, he was in the war and now he kind of got kicked out for some bad behavior, and now he's in charge of our platoon in Florida, and the middle brother, Chris, hates being a soldier, and the youngest brother, me, I'm super-gung ho, love the army, just super-enthusiastic.
SK: So does this mean no more Ryan Shay on Suburgatory?
PY: It's just a pilot — we could shoot it and for whatever reason maybe it doesn't get picked up, and that's absolutely a reality, in which case, I'd be so appreciative to work on Suburgatory. I'd love to go back and be Ryan Shay if they'd have me. If the show does get picked up, FOX will let me do, I believe, three more episodes of Suburgatory. So hopefully either way there will be some Ryan Shay coming back.
SK: That hilarious Suburgatory scene of you washing a car shirtless is famous on the internet! Tell us about that scene.
"While I'm so grateful that I get to do what I love, I'm more grateful that I have people in my life that support me and love me."
PY: That was my first day on set, and it was also on my birthday. And I remember it was originally supposed to be something much more simple, and it was going to be something kind of gross, like lapping water with your tongue out of the hose, like a gross image... a douchey image. And then it was like, 'Why don't we put some music on and just dance a little bit?' We weren't really sure what to make of that moment — and I just remember being like, 'You know what, I'm just going to freakin' get into this. I'm going to just go all out.' It was such a bizarre thing. I just went all out for five or 10 minutes and just danced, doing different things with the water and soap and the sponge. I think slo-mo makes everyone look sexy, so that took care of the sexiness for me.
SK: You get to work with so many talented people on Suburgatory, and one of our other favorite actors on the show is Jeremy Sisto (of Clueless and Six Feet Under fame). Does he ever give you advice?
PY: He's probably my best friend on the show, and I feel like he's sort of taken me under his wing. I look at him as a bigger brother. I've spent a lot of time with him outside of the set, and I really look up to him, and it was just funny when we found out about this FOX show, he was all 'bitter,' you know: 'Oh, I hope you enjoy your new older brother, your new number-one on the call sheet.' I think Jeremy is always going to be my big brother at heart, regardless of where I end up.
SK: In the fifth season of Mad Men, you played Jim "Handsome" Hanson in the Signal 30 episode, our favorite episode of the season. How did you get into character to play this track jock who actually ends up emasculating Pete Campbell?
PY: I think the hardest part wasn't trying to figure out how to be a track star or how to be a popular kid in school or anything. Ryan Shay on a comedic level has the athleticism and the popularity down. The harder part was they really wanted to make sure that because it was set in that time period, the flirtation has to be a little bit different. It can't be so overt. It was finding that line of flirting with somebody without being overly seductive.
SK: Tell us about working on the Mad Men set. What was the most memorable part of the experience? What did you take away from it as an actor?
One of the biggest things was the attention to detail — the specificity, every piece of clothing, every piece of furniture. They're creating such a specific world, and there's a reason that it does so well. They really take great care in making it exactly as they want it to be and exactly as it should be... all the way down to tattoo coverage being way more complex than it needed to be. I normally get a tattoo covered, it's a very simple process, but they put freckles on my skin and put veins back into my arm. Everything was so specifically taken care of, even though I had a shirt over the tattoo anyway! That was cool.
Also, I had never worked with a director who was also an actor on the show before... The episode that I shot of Mad Men, we had John Slattery, he was directing, which was cool, because he's also a part of that world, and so to see him interact with his coworkers and people he works with was interesting, and I think that was the first time that I felt inspired to one day do the same. I would love to be a part of a project that I am passionate about like him and be able to step into the role of director at some point. I think that would be an awesome thing to aspire to.
SK: Looking back at your experiences, you've literally played characters called "hunk." I mean, you were "Hunk #1" in Make it or Break It. You've washed a car shirtless on Suburgatory. How do you feel about being labeled as a hot guy?
PY: It's such a weird thing. It's such a very, very, very weird thing. I don't... OK, I say I don't love it, but at the same time, I'm sure I guess I would prefer that to being called 'Loser #1' or something. It's better, I guess. It's weird. Because when I think of Ryan Shay, the last thing I think is 'hunk.' I just think of a fun-loving guy, and it just so happens that because he works out, he looks a certain way. I think that adds to the comedy of it, especially in L.A., you see so many Zoolander types, guys who look like models and look a certain way and act a certain way. That I don't ever want to be seen as — I'd rather be seen as a guy that maybe looks like that but clearly doesn't take himself seriously.
SK: How do you like to pay it forward as an actor, either through charity or just giving others advice?
PY: Right now I'm at the Beverly Hilton in Beverly Hills, and there's a campaign going on to end Alzheimer's, and so I was here and did a photo shoot to try and bring about awareness and help people who are suffering from this disease and people who have loved ones that are suffering. It's scary...
I'm not a celebrity, in my opinion, but there are huge celebrities in this world, and so many of them are philanthropists and work to better the world, and I feel like it's our obligation, because when you have people that look up to you in any sense, I think it's your obligation to set a good example, the right example, and if not, then why are you, I don't even know how you would get to such a position if that's not your deeper motivation. Same way I do with my younger siblings, I'm trying to set a good example for them. I hope that I can continue to do that for just a slightly larger audience.
SK: What are you most grateful for in your life, as a successful actor?
PY: That question brings a tear to my eye, because I feel so fortunate right now, especially, this whole show and everything and wrapping up Suburgatory. I just got to spend last weekend with my dad for his birthday, and I was with my family, and my brother was on spring break, so I got to see my brother, who I don't see often, and to be able to celebrate with them was so amazing. So while I'm so grateful that I get to do what I love, I'm more grateful that I have people in my life that support me and love me, and then somehow people like you that are willing to interview me and listen to me ramble so I can be 'hashtag-Man Candy Monday' is so awesome, so thank you.
SK: Obviously because you're Man Candy Monday, we have to ask you: What do you look for in a woman?
PY: I love a girl who doesn't take anything too seriously. It's so nice to have somebody who can help me to just calm down, like, just to be with me and know what's more important than all the superficial BS is being together, enjoying the moment, laughing, loving life, being spontaneous, and not stuck to any rigid plan of how things should be, but being adaptable, and just trying new things, and being supportive of me. And also I think friendship is so important. Like, for me to have guy friends is such a blessing, and I need to have a girl that is confident enough to let me have that time with my guys, to be a man and not feel like she needs to hold me on a leash super-close. When you give a guy that freedom and he feels like he's living his own life, then he's much more likely to want to come back to you.
SK: So I take from this that you're single!
Yes.
SK: We love single Man Candy Mondays! So if a woman is looking to get your attention from across the room, what can she do?
PY: If I'm looking at a girl to talk to right now, and she smiled and waved or something, I wouldn't feel like that was too pushy. I would be like, 'Oh, wow, this girl's being nice and friendly,' and I'd probably go up and say hi and introduce myself. Go for it! If you want to get someone's attention, let them know. Because if you don't take the chance, then you'll never know what could happen. I think stereotypically guys [are supposed to] make the move, but absolutely girls should come say hi. I would love it if a girl came up to me right now and started talking.
You heard it here first, girls. Go get him!
This interview has been condensed for length.
Other AMC Man Candy
Man Candy Mondays: Jon Hamm
Man Candy Mondays: Aaron Staton
Man Candy Mondays: Aaron Paul
Photo credits: Lesley Bryce, WireImage/Getty Images