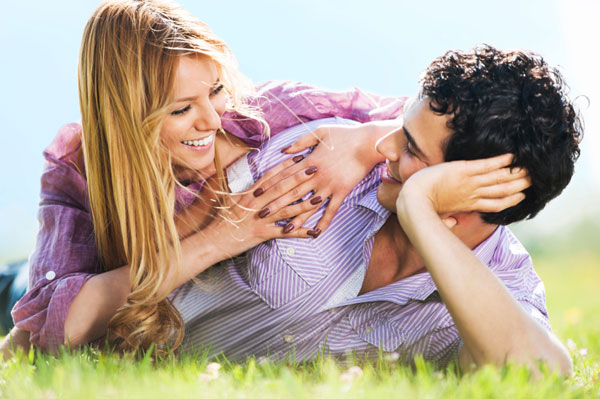 Charm the pants off him
So maybe you haven't been so lucky in love in the past, or perhaps you just met a guy and really don't want to screw things up. Either way, take a hint from these pros and get that second date guaranteed before your first one's over!
Figure out what you want
First things first — it's important to pinpoint why you want a second date (or a first one for that matter), notes Jenn Flaa, author of The Happiness Handbook. "Are you looking for a relationship? A fling? A friend? Be clear in your own mind so that you can accurately communicate it to the guy," she advises. "If you're seeking a fling, don't expect a callback. If you're looking for a relationship, go slow. It's easier to be yourself and be honest when your hormones haven't gone all haywire!"
Don't interrogate your date
Trust us — no dude wants to feel like he's the subject of a not-so-top-secret investigation. Thus, any questions concerning his financial status, religious views or political affiliation should literally be off the table during a first date, urges Suzanne Casamento, CEO of FantasyDatingGame.com. "Put yourself in his shoes," she says. "How would you like it if someone asked you about your credit score before the appetizers had even arrived?" Probably not so much, right?
Stay present
As in, don't go sprinting off into the future and imagine he wants a destination wedding too, warns Casamento. "Nodding absently at your date, all the while daydreaming about whether or not your children will wind up with his ears is just a bad look," she says. "Enjoy yourself and the night out." Live in the moment!
Be a flirt!
Sure, it may sound a tad bit obvious, but according to Grace Pamer, author of RomanceNeverDies.com, flirting gets you places that miserable, Miss Know-It-All definitely won't. "Subtly mirror your date's body language, and bat those eyelashes," she recommends. "Like the old saying goes: 'everything in moderation.' Don't go overboard. However, do show him that you're interested. No guy wants to leave a date trying to guess if there was any chemistry, so if you feel it, flirt it!"
Quit stressing
Remember — it's only a date! Although this might be easier said than done for some, be confident and try to relax, says Pamer. "You're cool no matter what the guy sitting across from you thinks, so let the real you shine through — not the pent up, nervous version — and you'll be A-OK."
Ask smart questions
By smart questions, we mean questions related to his values — not material objects! "Steer clear of topics like his job, car, house or vacations," cautions Mary Lee Gannon, President of StartingOverNow.com. "Ask him what he cares about, what he'd do if he had three spare hours on his hands and then simply listen. This is where you will find out who he really is." From there, you can decide if you wish to see him again or not.
More dating and relationship must-reads
10 Surprising ways to tell he's a good guy
5 Reasons why it's OK to ask a matchmaker for help
Date disaster: Mistakes you don't realize you're making