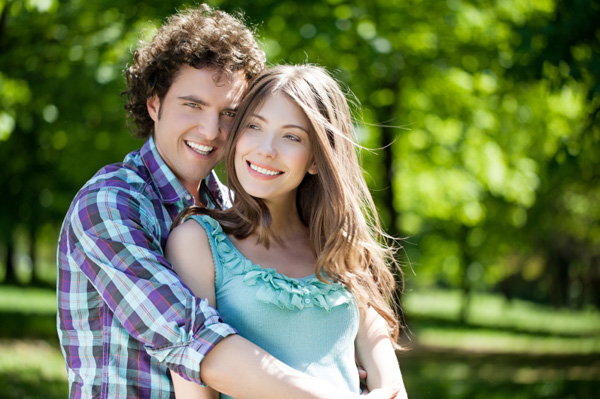 Flirt responsibly
Make sure that you're not getting in over your head on the 26th, the 28th and the 31st. What's fun and games for you may be serious business for the guy that you're flirting with and you don't want to lead him on if you're not truly interested. He could get really upset. Then again he may not be the problem. It could be his ex-wife or stalker girlfriend. In any case, you will be on the other side of this dicey planetary energy after April 2. That's when it will be safe to go back into the water.

ARIES (March 20-April 18)
Slow down! The guys are having a hard time keeping up with you these days. It's true that you're in no mood to suffer fools gladly, but if you keep outpacing them in everything that you do, then you really will wind up leaving them in the dust. Sometimes you have to throw the game to win the heart, but that's OK because you'll still come out ahead. Flatter his ego just a bit and he'll pamper yours.

TAURUS (April 19-May 19)
Not only will Venus be cazimi on Thursday (cazimi means "in the heart of the sun"), but it will also be conjunct Uranus. Translation? Every Tom, Dick and Harry will be asking for your phone number or clambering over themselves to make an impression. It's fun to be Marilyn Monroe for a day until you meet the girlfriend or wife. That's why you'll want to be careful during this time, so flirt responsibly.
---

GEMINI (May 20-June 19)
Guys tend to act like 8-year-olds when Jupiter squares your Ruling Planet Mercury in the sky. He may not be squealing "kooties" when he gets close to you or dangling a frog in front of your nose, but it will be close. Nevertheless it's still a sign that he's interested so give him a chance and you'll see that he'll start behaving more age appropriately by the beginning of next week.

CANCER (June 20-July 21)
They say that if you can't stand the heat, then you should get out of the kitchen. But what if getting out of the kitchen means jumping out of the frying pan and right into the fire? That's the dilemma you will face on Wednesday and Thursday. It's no use putting off the inevitable. Any decision you make is better than no decision at all as you will learn for yourself this weekend.
---

LEO (July 22-Aug. 21)
You are still not thinking clearly this week when it comes to matters of the heart and it looks like you're still not apologizing for it either. That can only mean that you're OK with what's going down. It's fun to be the topic of so much gossip and speculation, but remember that the rumor mill can take on a life of its own. Refrain from saying anything provocative on the 29th and you won't be quoted out of context.

VIRGO (Aug. 22-Sept. 21)
Weren't you supposed to be the commitment-phobe? Evidently not as you'll see on the 28th when the guy you're seeing pulls a sudden disappearing act. Friends will say let him go, but you know that there's more going on than meets the eye. Give him until April 6 to make a reappearance. And that means no calling, texting or "liking" until then. Not only will you get an apology, but you'll get the full story too.
---

LIBRA (Sept. 22-Oct. 21)
The full moon on Wednesday triggers a major meltdown. Tension has been building for a while now as it feels like you just can't do anything right — no matter what you do. But has it ever occurred to you that your partner or spouse doesn't know what he wants? And that trying to be what he wants you to be is an exercise in futility? Maybe it's time for a time out. You both could use a breather.

SCORPIO (Oct. 22-Nov. 20)
No. It's not your imagination. That guy at the office really is timing it so that you keep bumping into each other "accidentally." His appearances in the cafeteria, at the copy machine or at the elevator are all carefully orchestrated. All you have to do is give him the signal. However it looks like you're already spoken for, so enjoy the flirtation for what it is. And should you have second thoughts? Well, you know where to find him.
---

SAGITTARIUS (Nov. 21-Dec. 20)
The recent surge of fire energy in your horoscope has made you reckless and devil-may-care. And you've had a helluva time kicking over the traces as you've surprised and shocked people who thought they knew you better than you know yourself. But planetary aspects on Tuesday and Thursday show that you are nearing the point of no return. Should you decide to leap past the last hurdle, then do it with the knowledge that you can't turn around and blame it on someone else later.

CAPRICORN (Dec. 21-Jan. 18)
Anyone who thinks that you will always be tried and true may have another "thing" coming on Tuesday when Mars forms a square to Pluto. If there's anything you can't abide, it's being taken for granted. Yes, you pride yourself on being reliable and dependable, but you're not to be confused with some everyday fixture. You're nobody's potted fern. The rules of the game will start to change on Thursday and nobody — not even you — will know what the score will be until April 10.
---

AQUARIUS (Jan. 19-Feb. 17)
You may be surprised to find yourself wondering if he will call. And if you're already spoken for, then you may be visited by strange bouts of jealousy and even possessiveness. This is not typical behavior for Aquarians who are famously detached and cerebral. But then again, the Mars/Pluto square on Tuesday is not a typical square. You can expect an outpouring of unevolved feelings between March 25 and April 3. It only goes to show that you really are human after all.

PISCES (Feb. 18-March 19)
There's a place that you didn't want to go to, but you'll be going there on Friday. Maybe it's the sinking realization that you sold somebody a false bill of goods. Perhaps you're not the great romantic you said you were or you're not as into him as you said you were last week. No worries. You're moving out of the infatuation stage into the "what did I get myself into?" stage and ironically, this is where the real magic of bonding takes place.
More horoscopes
Your weekly love horoscope
Your weekly career horoscope
Your annual love horoscope for 2013