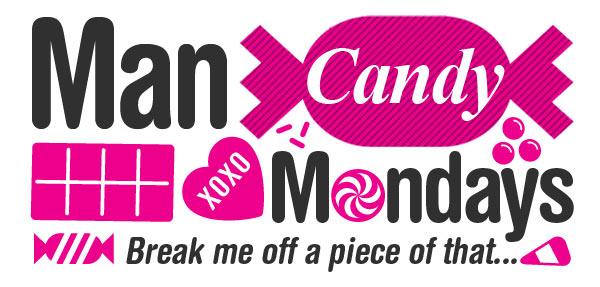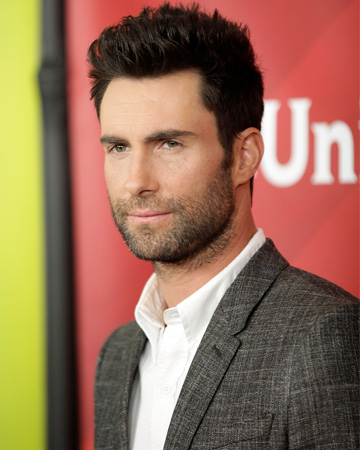 We voice our approval for this stud!
We know he has moves like Jagger on the dance floor, but we've become increasingly interested in Adam Levine's in-the-bedroom maneuvering ever since The Voice began gracing our television sets.
Pair that with his catchy vocal stylings for Maroon 5 and a good long look at his toned-and-tatted torso, and stick a fork in us — we're done.
Why we love him
Epically cool with a dash of counter-culture spice, this frontman is the stuff fangirls' dreams are made of.
Adam Levine
Born: March 18, 1979
Hometown: Los Angeles, California
Height: 5' 11-3/4"
He's sexy as hell
If you've passed a newsstand lately, you'll see Adam looking ever so comely on the cover of Men's Health. In addition to his hot tattoos and so-appealing-it-should-be-illegal T-shirts and jeans, he's been known to step up his game on date night (or awards ceremony evening):
"When you look at anyone who is considered a fashion icon, the clothes are always a collage of different looks and moods," he told the magazine. "I love waking up, throwing on some yoga pants and hanging out all day looking like a psycho. And then that night I'll throw on a suit and go out looking like a businessman. I love that flexibility. I wouldn't do any of this s*** if it weren't fun."
He also has a brand new fragrance (despite tweeting about his disdain for celebrity scents back in 2011), named appropriately, Adam Levine. (Find it at Macy's.)
Tell us, Adam: If we spritz it on an unsuspecting male, will he turn into you, like John Stamos in those yogurt commercials? Because we hope so.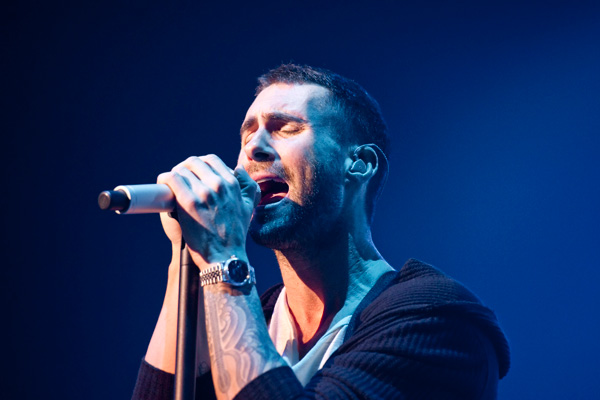 He has a silver tongue
Watch even one episode of The Voice, and you'll come to the conclusion that we have: Adam Levine could talk us into anything. Anything. The power of persuasion is a special gift of Adam's. And we haven't even covered his singing voice. When Women's Health pressed him to chat about the sweet-sounding contents of his lyrics, here's what he said:
"I like to be able to open up and be sensitive," he said. "Making yourself vulnerable is a huge step, especially for a guy. It makes you feel great, but it also puts you in harm's way."
Sounds like the makings of a popular song... and a certified way to get panties to drop everywhere you go.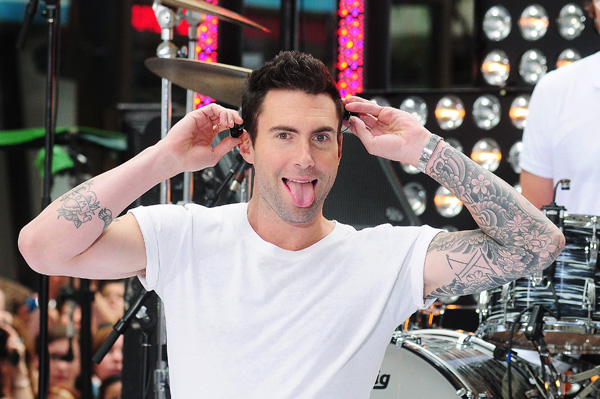 He can laugh at himself
We loved watching Adam host Saturday Night Live this past January, specifically when he performed in a skit spoofing The Voice (red chair and all!) with comedy veterans Andy Samberg, Cameron Diaz and Jerry Seinfeld. Oh, who are we kidding: We just liked the part when Diaz encouraged Adam to take off his shirt. Watch the video here!
We love surprise shots of nekkid Man Candy on network TV.
"Making yourself vulnerable is a huge step, especially for a guy. It makes you feel great, but it also puts you in harm's way."
Adam Levine's relationship status
The boy has a taste for models, no doubt. His list of exes includes Victoria's Secret stunner Anne Vyalitsyna — and he's been dating yet another VS model, Behati Prinsloo, since mid-2012. But don't look for Adam to be settling down anytime soon.
"The most important thing about marriage is understanding that it might not be the right time, regardless of what your friends are doing," he told ELLE. "Peer pressure is a motherf*****. Peer pressure plays a huge role in people's desire to get married."
Adam, if you ever find yourself in need of a non-model companion, we want to see your smooth dance moves in person!
More singing studs
Man Candy Mondays: Harry Connick Jr.
Man Candy Mondays: Matthew Morrison
Man Candy Mondays: Justin Timberlake
Photo credit: Brian To/WENN.com, Carsten Windhorst/WENN.com, Dan Jackman/WENN.com