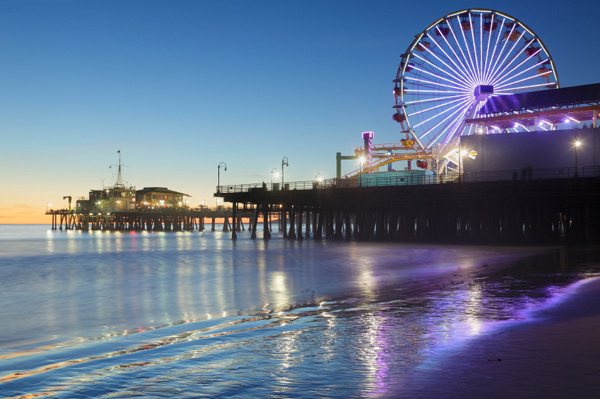 What LA daters
are doing
SheKnows has the inside scoop on some of the biggest dating trends in cities across the U.S. From what daters are eating to where they like to go and what they're doing, we got some help analyzing the trends from some top-notch relationship experts. Next up: Los Angeles.
Dating trends revealed
The experience-driven dating site HowAboutWe analyzed more than 1,000,000 dates posted on their site to get a coast-to-coast look at how America's singles date offline. We're sharing the findings for some of our favorite cities, and this week it's all about dating in Los Angeles.
It's hard to date in LA
"Los Angeles has plenty of singles, but it can be harder to meet people just walking down the street," says dating expert and founder and CEO of Dating with Dignity Marni Battista. So where do you meet people? "Group activities, sports leagues and coffee shops are a pretty good net to cast to meet someone in Los Angeles," she advises.
LA dater says: "Even if it seems hard to meet someone in LA, once you start taking advantage of all the city has to offer in terms of things to do and awesome outdoor activities, it opens a lot of doors when it comes to finding a date." Sloane, 32
Most popular date spots
Santa Monica Pier
Griffith Observatory
LA County Museum of Art
The Getty
Chateau Marmont
Top dating activities
Going to the beach
Hiking
Yoga
Dancing
Board games
Why get moving on a date?
Dates that get you moving get your heart rates up, which is often interpreted as being attracted to another, especially sexually, explains Dr. Yvonne Fulbright, Astroglide's sexual health and relationship ambassador. "These are also really fun activities, with people feeling refreshed and inspired by the outdoors," she explains. "Nice weather can have lovers feeling good. There tends to be plenty to look at with people feeling connected with everything that is to be appreciated."
Most popular date food
Pizza
Food trucks
Cupcakes
Frozen yogurt
Tacos
Expert dating tip: Making it work
No matter what you eat on your date or where you go, there are a few things to think about on your date. First and foremost, know and truly like who you are, inside and out, advises relationship expert and love architect Kailen Rosenberg. "Only then are you in a good place to invite someone into your life, should you happen to fall in love," she explains. "Be in check with your deal breakers, such as what goes against your value system."
Rosenberg also brings up the importance of having a great dating wardrobe. "Not too sexy, not too trendy and always body-flattering," she says. "Pay attention to your hygiene too. Make sure you have fresh breath and avoid too much perfume, makeup or jewelry. Overall, just be comfortable with being yourself."
More dating tips and trends
Dating profile dos and don'ts
Survey reveals the state of dating in America
What's a cloud lover and why do they keep you single