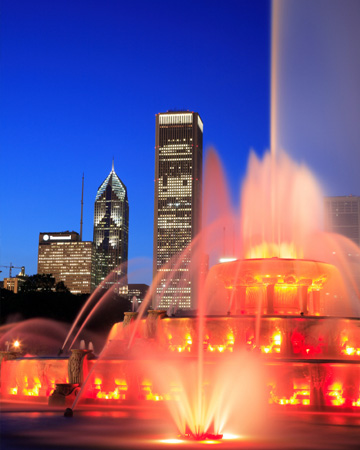 What Chicago daters are doing
SheKnows has the inside scoop on some of the biggest dating trends in cities across the U.S. From what daters are eating to where they like to go and what they're doing, we got some help analyzing the trends from some top-notch relationship experts. Next up: Chicago.
Dating trends revealed
The experience-driven dating site HowAboutWe analyzed more than 1,000,000 dates posted on their site to get a coast-to-coast look at how America's singles date offline. We're sharing the findings for some of our favorite cities, and this week, it's all about dating in Chicago.
Dating in Chicago
Chicago is known by many as a mecca of singles who are attractive, smart and career-driven, notes Kailen Rosenberg, relationship expert and love architect. "Like New York, Chicago offers a fresh dating atmosphere. It is the city to land in if you are looking for sharp, modern singles with good Midwestern family values."
Chicago dater says: I actually met my fiancee when I moved from LA to Chicago, at a time when I'd basically given up on finding someone. There's just something about the city, at least to me, that makes it seem easy to meet someone with similar interests. Matt, 29
Most popular date spots
Millennium Park
The Art Institute of Chicago
Big Star
Shedd Aquarium
Blue Agave
Parks on top?
"Parks and piers are popular because these places become a sort of 'third person' in the date, in a way that a restaurant or a movie can't be," notes relationship expert Susan Shapiro Barash. Rosenberg agrees. "An outdoor setting allows you and your date to sit and observe the world around you together. This gives insight into how you each see life," she explains. "It can be something romantic like commenting on a beautiful sunset or something humorous — regardless of what you are watching, you have a chance to connect by glimpsing into who you each are and how your souls work."
Quick dating tip: Barash emphasizes that it's very important to be open-minded when dating and to be a good listener. "Avoid preconceived notions so that you can learn about the other person. Be polite and thoughtful, upbeat and friendly," she advises. "I've heard many women complain that a date is too cold or disinterested."
Top date activities
Board games
Bowling
Biking
Running
Going to the beach
Most popular date food
Tapas
Frozen yogurt
Pizza
Vegetarian
Ice cream
More dating tips and trends
Love horoscopes: What to expect in 2013
The day I learned my boyfriend was on Match.com
Dating profile dos and don'ts