(page 7 of 13)
---

---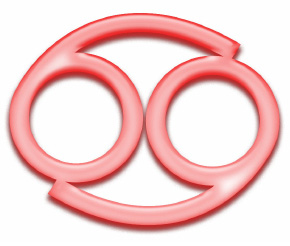 Cancer

Now that we are settling into a new year, see what's ahead for your love life — whether you're single or in a relationship. Christopher Renstrom is turning to your Ruling Planets to break down what to expect, what to be wary of and how you can make positive changes.
About you
Cancers are supposed to be the homebodies of the zodiac. Most astrology books portray you as soccer moms who live to cook and clean and whose sole purpose in life is to be barefoot and pregnant. Thankfully, there's more to you than that. You were born under one of the most creative and resourceful signs of the zodiac. Many writers and painters are Cancers as well as real estate moguls, hoteliers, and reigning box office stars like Tom Cruise and Meryl Streep.
Now it's true that your family means a lot to you and any guy who doesn't score a favorable review with the home team is out. You might continue to see him for a while (maybe even for years), but you'll never marry him. That's because family — and more importantly where you come from — means everything to you.
You are extremely private and secretive — although you don't see yourself that way. If anything, you see yourself as too forthcoming with intimate details. Your abiding fear is that you will reveal too much, too quickly and frighten away a prospective lover. You walk around with this feeling that you are infinitely readable, which is why you will work overtime to try to cover your tracks. You don't want to be exposed and vulnerable. But what Cancers forget is that crabs are hardly vulnerable. They come with hard shells and claws that pinch. Like the crab, you approach things in a roundabout way, and you know how to blend into the background. You've gotten good at camouflaging your wants and needs over the years, so you're not as transparent as you think you are. Many people have a hard time reading you — especially your lover or mate.

If you're single, then you won't be for very long, which means that you better get clearheaded about what kind of person you want in your life.
No more secret crushes or pining away for people you know you aren't serious about. And the same goes for carrying on with that married man who's never going to leave his wife.
Get it together, Cancer! Jupiter moves into your zodiac sign on June 25, which means that you will be tying the knot and settling down sometime between June 2013 and July 2014 — no ifs, ands or buts.

Getting what you wish for. Marcel Proust, a Cancer, wrote an eight-volume series called Remembrance of Things Past. The protagonist longs for women he thinks he can never have, and every time they return his affection, he falls out of love with them and starts longing for another woman whom he thinks he can never have... and so it goes. Thousands of pages are spent chronicling this endless cycle. Don't let this happen to you! There's nothing wrong with being disillusioned with love, though. It may even be the first step toward forming a real, blood-and-guts relationship.

You are coming into one of the best times of your life as a couple.
It begins in late June 2013 and will continue for the next 11 years. Really.

Don't over-romanticize sex. It's great, but it's not everything. In fact, it's often clumsy and messy, and that can be a lot of fun if you let it be. You don't want to turn lovemaking into something that's so precious and rarified that you'll be too intimidated to do more than just hold hands.

Your most unsettling times of year will be March 21 – April 4, 2013; June 26 – July 10, 2013; Sept. 26 – Oct. 10, 2013; and Dec. 26, 2013 – Jan. 8, 2014. These are crucial turning points that won't be easy, but they're good for you nonetheless. Indeed, you will emerge from each one feeling bolder and more confident than you did before. Meanwhile Feb. 18 – March 19, June 20 – July 21, and Oct. 22 – Nov. 20 of this year are periods of good fortune and protection when you need it. June 26, July 17, and Oct. 25, 2013, are especially auspicious.
Photo credit: WENN.com/Alberto Reyes