(page 12 of 13)
---

---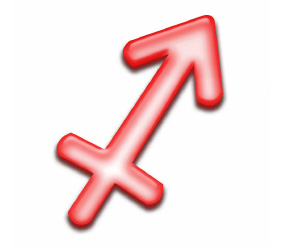 Sagittarius

Now that we are settling into a new year, see what's ahead for your love life — whether you're single or in a relationship. Christopher Renstrom is turning to your Ruling Planets to break down what to expect, what to be wary of and how you can make positive changes.
About you
You were born under the sign of the centaur — a mythological creature that was half human, half horse and a killer shot with a bow and arrow. This makes you sporty, active and focused on hitting the bull's-eye when it comes to love. You have a great passion for the outdoors and for travel. Indeed, "anywhere but here" is your personal motto because you believe that the good things in life are waiting for you somewhere else. This gives you your restless energy as well as your love of adventure and exploration.
Any man who wants to get together with you is going to have to race to keep up, because you're always galloping off in some new and exciting direction. You don't do well with feeling fenced in, which is why you will avoid making any serious long-term commitment for as long as you can. Freedom is very important to you, but you must decide what kind of freedom you want exactly. Is it freedom from or freedom to do? Freedom from is escapist, and this is where Sagittarian women get their reputation for bolting for the exits. Sagittarius is the sign of runaway brides. Just ask Sagittarian Britney Spears. Freedom to do, however, requires mastery over your life wherein you take the reins and consciously decide where you want to invest your energy and your efforts.
The mix of horse and human shows that you can be Party Girl one moment and deeply philosophical the next. You like to horse around, but you also come with a very powerful spiritual side — and it's a spirit that won't be broken.

You're looking, but are you finding? That will be the pressing question in April 2013 when there's a surge of fiery energy coursing through your horoscope. Fire energy shows you falling in love with greener pastures — which is great for travel but not so good for romance. Especially since you have this problem with long-distance relationships. When you go looking for your heart's desire in late June, try sticking close to home. You might surprise yourself.

You've had more than your fair share of ups and downs since 2011. In fact, there seems to be some kind of emotional hurdle that invariably appears like clockwork every June and December.
January through March of 2013 will be particularly stressful, but if you can make it to June 19, 2013, then you will work out your differences, your bond will be solid and nothing will be able to rend it asunder.

The primary difficulty that Sagittarians have in relationships is that you tend to spend a lot of money — yours and your partner's. This is OK if you're well-to-do, but it can become an enormous source of tension if you're not — especially if you take a "So what?" attitude. Nobody's trying to spoil your fun, but your lover or spouse doesn't really want to play bean counter either. Take responsibility for your spending habits, and you won't have to sit through the finger-pointing that can poison relationships, especially during these challenging economic times.

Your most challenging times for love will be when the Sun is traveling through the zodiac sign of Gemini, which is May 20 through June 19.
Your best times for romance are March 20 – April 18, July 22 – Aug. 21 and Nov. 21 – Dec. 20.
The best time for going saying yes or tying the knot will be Sept. 7–13.

Make sure that your idea of sexy is the same as your partner's. Sometimes Sagittarians tend to play at being sexy rather than just be sexy. Trust in your sex appeal. It's more seductive than you know.
Photo credit: WENN.com/Ivan Nikolov