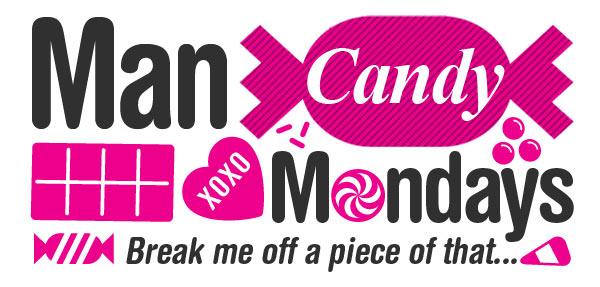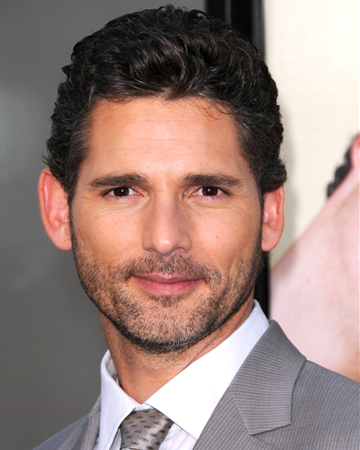 Eric Bana
From comic book hero to English royalty to rom-com love interest, Eric Bana can — and has! — played all kinds of movie roles. But our favorite way to enjoy Eric is visually, no moving picture necessary — with that scruffy chin and adorable grin (not to mention that luscious head of hair). Now we get to see Eric grace the silver screen alongside Olivia Wilde and hottie Charlie Hunnam in the thriller Deadfall, in theaters now.
Why we love him
Versatile as an actor, this Aussie has boy-next-door looks that make him flat-out irresistible, whether it's in an intellectual night-at-the-cinema capacity or while we're enjoying a good, old-fashioned chick flick.
Eric Bana
Born: Aug. 9, 1968
Hometown: Melbourne, Australia
Height: 6' 2-1/2"


The boy is smokin' — and directors agree
Hmmm, who to cast as a librarian-turned-time-traveler? Or a sexually depraved Tudor? Or an Israeli assassin? Or the Incredible Hulk? Eric Bana, of course. Was the variety of roles by design? Not really!
"I think if you had to map that out at the beginning and you said, 'Right, sit down, this is what you're going to be doing,' you'd probably freak out," he told the AV Club. "But I'm someone who really enjoys not being himself. So if you consider that, then it all sort of makes sense. You know? And I just think that's the job of an actor. I guess that's the variation that you're talking about. It's probably a byproduct of just constantly looking for something different, because that's what I feel like I'm supposed to do."
Different movies mean different opportunities to see Eric strut his stuff, so we're certainly happy with his choices.
We love his leading ladies
Eric being utterly adorable has assured him a bevy of comely ladies who function as his better half. We're talking Rachel McAdams (The Time Traveler's Wife), Scarlett Johansson, Natalie Portman (The Other Boleyn Girl) and Drew Barrymore (Lucky You). Are there any A-list women left in Hollywood, or has Eric starred with all of them?
This hottie has even starred alongside the gorgeous Olivia Wilde (she plays his sister in Deadfall). Far from a normal onscreen relationship, however, his and Olivia's sibling roles aren't cut-and-dried:
"There's no doubt that it's somewhat compromised and somewhat complicated and murky, but I think that adds to the tension and the drama in the film, and it adds to the complexity of [Bana's character] Addison, so I was happy with that," he recently told Collider. "I was also happy with the fact that it wasn't overly fleshed out. We only had a couple of moments in which to play with that stuff, whether it be the way he watches her getting changed in the snow in the beginning or how he talks to her or the kiss at the dinner table. That's kind of weird, but at the same time, it's about putting Jay (Charlie Hunnam) off kilter. So, it was a weird dynamic. It's not every day that you read stuff like that, so it was exciting to play. It's a believable older brother, younger sister dynamic, but just ramped up."
In fact, the interview goes on to say, he found a kindred spirit in Olivia: "Yeah, she's a lot of fun. She's got a very, very good sense of humor, actually. She does good impressions, as well, by the way. She was really cool."
Which leads us to our next point...
He's a real-life comedian
Wise guy? You bet. Eric didn't just star in Funny People — he really is funny: He got his start on the Australian sketch comedy program Full Frontal in 1993 and worked on the show as a writer and actor for four years. His specialty: impressions, namely of action-movie heavyweights such as Tom Cruise, Arnold Schwarzenegger and Sylvester Stallone.
Fun fact: As a kid, on the playground, he even used to do impressions of teachers — and everyone loved him for it, he said this past week on Jimmy Kimmel Live.
"I used to do a lot of impressions when I was a kid in the family home, and also mainly to just get out of detention at school," he says. "I would do other teachers at school, and just try and get out of trouble, basically and use it as currency... They used to pull me aside in the corridor and ask me to do other teachers on their behalf, like on the slide: 'Could you do the pot-smoking P.E. teacher for me, and could you do the principal?' And [I would get] better grades and I would get out of trouble by doing the impressions. So it's just a different form of currency I prefer the currency now, but, yeah, it was good."
We'd pay good money to see a few of those old-school Bana acts.
Eric Bana's relationship status: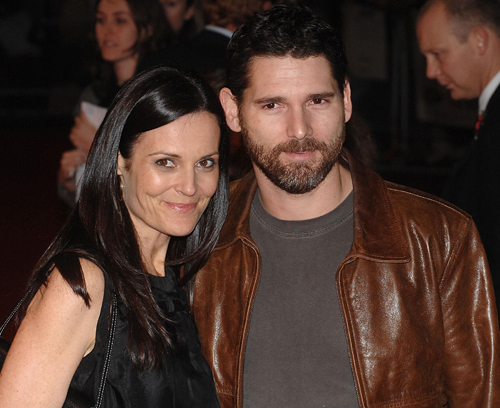 Despite his man-about-town looks, Eric is a one-woman man: He's been married to publicist Rebecca Gleeson since 1997, and the pair has two children, Klaus and Sophie. How does he keep the home fires burning? Distance from work, for one. The Banas live in Sydney, Australia.
"When I go on the plane to fly home, I'm literally capable of forgetting what I do for a job," he once told USA TODAY. "That also comes about because I choose to take massive breaks between projects, and because I choose to do this ridiculous thing of keeping home, home."
Sounds like it's working!
Photo credits: WENN.com, WENN.com, Columbia Pictures via WENN.com, Nikki Nelson/WENN.com, Daniel Deme/WENN