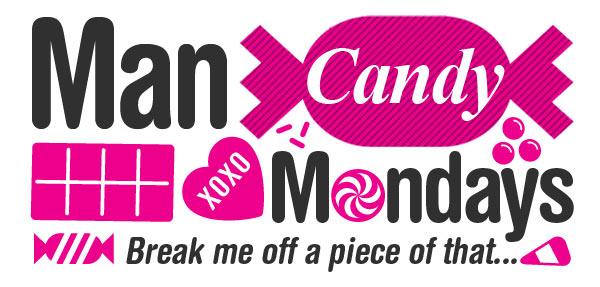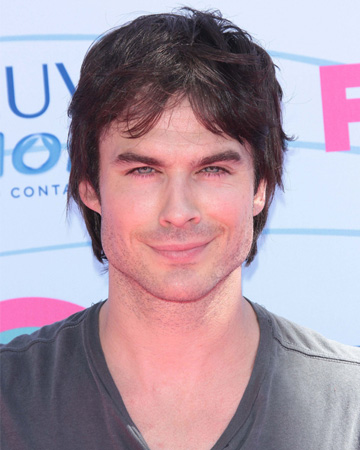 We'd sink our teeth into
this vamp
Poised on the brink of super-stardom, Ian Somerhalder and his gorgeous baby blues are popping up in more places than ever (magazines, fan sites, intense conversations about the Fifty Shades of Grey movie casting speculation...).
From one of his first big roles as a resurrected teen in Smallville to Boone Carlyle on Lost to a ridiculously good-looking vampire in the CW's The Vampire Diaries, Ian is making his mark on the mass media — and capturing the attention of women everywhere who know a truly gorgeous man when they see one.
Why we love him
This Southern boy has come a long way from his small-town Louisiana roots, taking on major roles on several major TV series — but he's still got a heart of gold.
Ian Somerhalder
Born: Dec. 8, 1978
Hometown: Covington, Louisiana
Height: 5' 9 1/2"
The man is smoldering, to say the least
With those steely blue eyes, it's no wonder that he's a fan favorite to play the Fifty Shades of Grey title character Christian Grey in the upcoming film version of the book. (Even actress Sophia Bush said he'd be the best for the kinky role!) Ian himself is definitely into it, telling everyone from Ryan Seacrest to Bret Easton Ellis to Chelsea Handler how much he wants the part.
"I play a 175-year-old vampire who's in love with an 18-year-old, so technically I have a lot of... I'm good with younger women," he joked to Handler on Chelsea Lately.
We'd be remiss if we didn't mention Ian's spicy full-frontal nude scenes in the HBO series Tell Me You Love Me. One romp in particular featured him and a very shapely Michelle Borth "reconnecting," so to speak. We can't link to it, but, trust us, this is something you're going to want to Google.
We're glad you're so uninhibited, Ian!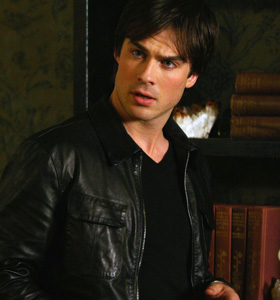 "I play a 175-year-old vampire who's in love with an 18-year-old, so... I'm good with younger women."
He makes already-great shows even better
Remember Lost, everyone? (How could we forget?) Ian's turn as Boone ensured that Americans everywhere would recognize his face going forward. (Although we're partial to seeing him as young spy Adam Knight in Smallville.) And now, as Damon Salvatore, one of two vampire brothers on The Vampire Diaries, a whole new demographic is getting the opportunity to enjoy Ian's many talents (physical and otherwise).
"A lot of stuff that Damon goes through is super-cathartic for me."
Capturing Damon's dark side is no easy task, Ian told Collider.com: "A lot of stuff that Damon goes through is super-cathartic for me, as an individual, and it's not always pretty. You're muddying the water, all the time. You're pulling from all these things in your life that are not necessarily good. It's basically like getting paid for therapy. Instead of laying on someone's couch and telling them about how you feel, you're internally pulling all this stuff."
We love that he's willing to bare his soul for his art (and our enjoyment!).
He loves animals and protecting the environment
Yet another reason that Ian seems too good to be true: He has a soft spot for creatures great and small and a fervent appreciation for nature. He's so committed to animal welfare and environmental issues that on his 32nd birthday in 2010, he unveiled the Ian Somerhalder Foundation, which promotes nature conservation, green technology and humane treatment of animals (among many other things).
"Every year, I receive so many heart-warming gifts from all the incredible fans; this year, my only birthday wish is to create a well planet," he told Vampire-Diaries.net right before the foundation launched. "Instead of gifts, if people truly feel like giving, we hope they'll give to the foundation. Giving me the best gift possible, a chance to make change… and to make that change alongside fans, amazing."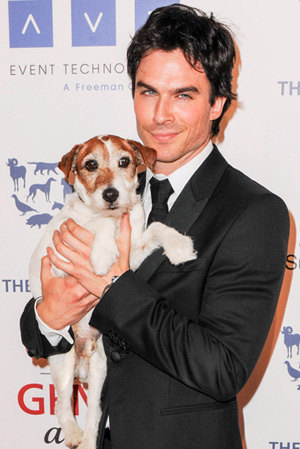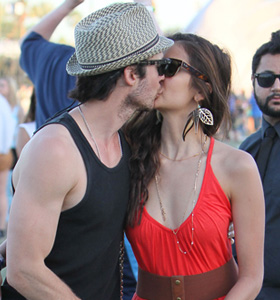 Ian Somerhalder's relationship status:
Workplace romance alert! Ian has been dating his The Vampire Diaries co-star Nina Dobrev, 23, since 2010. Her positive attitude might have something to do with what attracted him to her in the first place:
"Her desire to experience and appreciate everything around her, and chuckle and enjoy it, is great," he told Us Weekly.
Perhaps dating this younger woman will also prepare him for Fifty Shades of Grey... We have our fingers crossed for you, Ian!
FayesVision/WENN.com, CW via WENN.com, Kristen Noseda/WENN.com, Daniel Tanner/WENN.com, STS/WENN.com