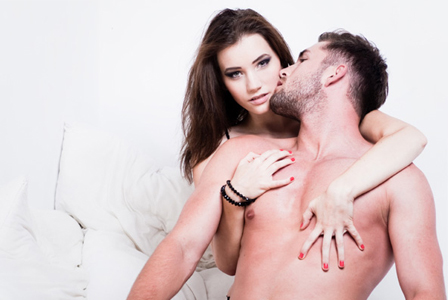 It's official: Scientists say sex is better with lube. (Really!) A study of 2,500 women from Indiana University found that women who used lubricant reported more pleasure and satisfaction during sex.
Make sex the best with your perfect lube
But how do you decide which kind is right for you? We talked to sex educator Carol Queen, PhD, staff sexologist at Good Vibrations sex-toy store in San Francisco, for the lowdown on what to expect from different types of lubricants so you can choose wisely... and have the best sex of your life.
Silicone-based lubricant
Slippery silicone is an all-purpose winner: "This is extremely slick, usually fairly thin and many people like it for vaginal, anal and manual play," says Queen. "Its disadvantage — which might also be considered an advantage — is that it stays and stays, which means it can be a little harder to wash away than the water-based products. It's safe to use with condoms."
Brands to try: Wet Platinum Premium Lubricant [$10 for 3.1 ounces; walgreens.com], Sliquid Silver Silicone Lubricant (glycerin-free) [$24 for 4.2 ounces; goodvibes.com]
Water-based lubricant
In the Indiana University study we mentioned above, water-based lubricants were rated highest for pleasure during anal sex. But they're also great for a lot of other things. "These lubes are usually fairly thin and many mimic the feel of vaginal lubrication pretty well," Queen says. "Great for vaginal intercourse and manual play, especially on the vulva." What not to use this lube for? Hand jobs. "It dries out rather quickly as it's exposed to air," she says. If you want an extra-thick water-based lube, try a gel lubricant, which can feel cushier.
Brands to try: BabeLube (organic and glycerin-free) [$8 for 4 ounces; babeland.com], Blossom Organics Natural Moisturizing Lubricant (organic and glycerin-free) [$10 for 4 ounces; drugstore.com].
Water-based cream lubricant
Same ingredients as other water-based lubes, just a different texture: "This lube looks and feels more like a lotion, so it allows for more friction — great for hand jobs. And many people will like it for vaginal intercourse," Queen says. "It may last longer than the other water-based products and is fine with latex. It may not be best to use before oral sex, as some of these have a flavor that isn't especially neutral — some do not like the taste."
Brands to try: Please Cream Lubricant (glycerin-free) [$8 for 2 ounces; goodvibes.com], Liquid Silk Sensual Lubricant (glycerin-free) [$16 for 8.5 ounces; babeland.com]
Oil-based lubricant
For this category, think kitchen and bathroom cabinets: Crisco, coconut oil (some women love this for vaginal intercourse, Queen says!), Vaseline... But these are not safe with latex condoms, as they can break the material down. "Vegetable and nut oils — if you are not allergic to the product they derive from — can be used apart from condomized play," Queen says, "for hand jobs, sensual massage — and some people like them for anal, especially products like shortening, which are thicker and 'cushier.' "One big don't: Using mineral oil–based products for vaginal sex. Queen says it dries out the mucosa.
Brands to try: Love Balm Natural Lubricant (organic, coconut oil–based) [$18 for 3.4 ounces; goodvibes.com], Elbow Grease Cream Lubricant (mineral oil–based) [$15 for 4 ounces; amazon.com]
Other key terms:
If the lube you're considering is flavored...
"Many people enjoy these very much for oral sex," Queen says. "The biggest warning would be a user's potential sensitivity to ingredients. Especially watch out if you are allergic to the flavor in question when you encounter it in real food: Do strawberries give you hives? Watch out for strawberry-flavored lubes! Of course, some flavoring agents are completely artificial... so individual mileage will vary."
If the lube you're considering contains glycerin...
"This is a sugar, and some women will find it does not agree with their vaginal flora," Queen says. "For some, it seems to irritate or to encourage yeast infections. Others use it without any problems. There are enough people who can't use it, though, that many water-based lubes today do not include it. Silicone- and oil-based preparations generally will not include it."
If the lube you're considering is "heating" or "warming"...
"These frequently use a big dose of glycerin to achieve the advertised effect," Queen says. "Some people will like the sensation these give. For others... not so much. These work best with friction (like hand jobs) or by amplifying the warmth of one's breath... They don't work as well when you blow on them as they are sometimes purported to do. Warm breath amplifies better than cool, blown breath."
If the lube you're considering claims to give extra sensation...
"These are often not really lubricants; they are sensation creams or gels," Queen says. "Instructions frequently tell you to apply to the clitoris and rub in for a few minutes, which will result in arousal -- here's an open secret: You can do that with any slippery liquid (regular lube, coconut oil, spit...!) and pretty much achieve an aroused result! Sometimes these contain mint oils or other sensation-packed botanicals, and one should watch out in case those are hard to wash off when you've had all the intensity you want."
The takeaway
"Bottom line, if you find a lube has an uncomfortable feel, makes you itchy or [gives you] some other reaction that suggests you have an intolerance to it, switch to something else! These products are supposed to make sex more comfortable, not less."
More bedroom tips
Beat bedroom boredom: Ways to spice things up
5 Fun bedroom buys
How to get what you want in the bedroom