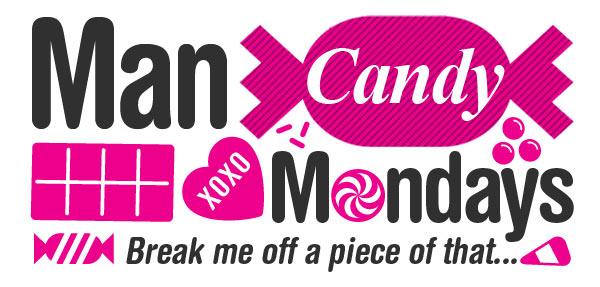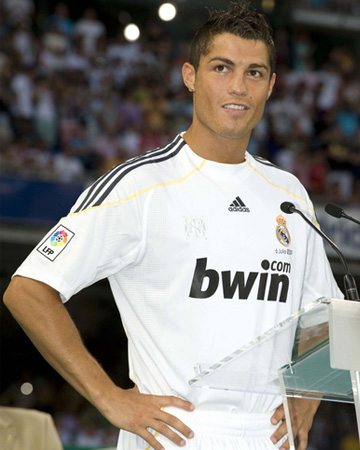 we'd let him score
This Portuguese footballer is known for his fancy footwork, but to be honest, we were staring somewhere north of his cleats — specifically at his tight backside and beautiful face. If Cristiano Ronaldo is playing, you can bet we're down at the local pub, demanding they change the channel to the Real Madrid match so we can take in this physical specimen in all his on-field glory.
Why we love him
You don't have to twist our arm to watch a soccer game that features Cristiano running around and scoring like mad, all hot and sweaty and delicious.
Cristiano Ronaldo
Born: Feb. 5, 1985
Hometown: Madeira, Portugal
Height: 6' 1/2"
He's ridiculously attractive
Let's be honest: Cristiano is smokin'. He's young, ripped, tan and has a butt that won't quit, and those features alone are enough to not only pique our attention, but hold it for a really, really long time. We'd be remiss if we didn't mention that he appears in his underwear in this Armani Jeans commercial, where a sneaky maid spies on a shirtless Cristiano for as long as she possibly can. Sounds like a good starting point for a fantasy to us...
And not to go totally gaga over all of Cristiano's commercials (eh, actually, why not?), but here's another hot one, for Nike this time, featuring Cristiano and tennis pro Rafael Nadal going head-to-head with tennis balls. It's double Man Candy!
He has a heart
Our beautiful Cristiano isn't exactly known for being modest. And his penchant for fancy clothes, hot cars, jetsetting, bling and ladies like Kim Kardashian and Paris Hilton has been well documented.
"My family comes first — my son is the most important thing in my life."
But he has a son, Cristiano Jr., (the mother hasn't been named after she was paid to give up her legal rights to the child), who attends every match he plays, with Cristiano's mother, Delores. As for Cristiano's father, he died of alcoholism when Cristiano was 19. Cristiano says he doesn't drink as a result.
In an interview with the Mirror, Cristiano recently said, "My family comes first — my son is the most important thing in my life. After that, it's the football that matters most to me. Money comes after that."
Seems like he has his priorities straight!
He's an insanely talented player
How good of a player is Cristiano Ronaldo? Let's put it in terms of cold, hard cash: Forbes lists Ronaldo as the ninth highest paid athlete in the world, with an annual salary of $20 million, plus endorsement deals. Ronaldo's mad skills were noticed by a Manchester United scout at the ripe young age of age 16, and he was soon signed for close to $19 million.
Now, he plays for team Real Madrid for most of the year, and teams up with Portugal every so often. Portugal lost to Spain in the Euro 2012 semifinals this summer, but one thing was certain: Even though the team lost, high-scoring Cristiano continues to shine.
Cristiano Ronaldo's relationship status
As girlfriend choices go, Cristiano has exquisite taste: He's been with Russian model Irina Shayk, 26, since mid-2010. Recent pics showed Cristiano and Irina cavorting on a yacht in St. Tropez this month. Now if you'll excuse us, we're just going to close our eyes and pretend that that's us in a sassy orange bikini, with a killer bod, sipping a beverage next to a shirtless Cristiano. Ahhhhh... A girl can dream!
Photo credits: Brengola-Diena/WENN.com, PR Photos